Jarred Dunn
Competition studio & Reviews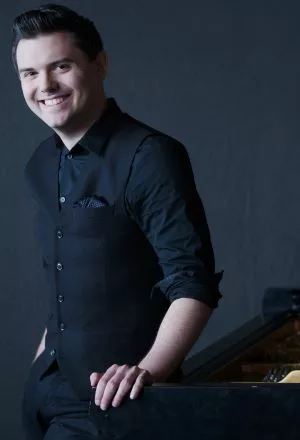 Jarred Dunn
Reviewer of the 12th International Paderewski Piano Competition in Bydgoszcz
Host of the 12th Paderewski Competition studio
Jarred Dunn, Yamaha Artist, is the first prize winner of the Lithuanian International Chopin Competition (Vilnius) and a prize winner of the Jan Hoffman International Competition in Kraków. He has been described by critics as "a piano sound-colour magician" (Muzikos Barai, Vilnius), "evocative and mystical" (New York Classical Music), and "technically perfect" (Belarus First Radio). He has been heard on CBC, WWFM, Belarusian First, and Madison Freethought Radio/Television. He hosted the CBC's This is My Music and was featured on the 2018 Top Thirty Under Thirty: Hot Canadian Classical Musicians (CBC). His recordings include Chopin and Debussy (2019) and Brahms in Solitude (2022). A graduate of the Feliks Nowowiejski Academy of Music (class of Prof. Katarzyna Popowa-Zydroń) and the Karol Szymanowski Academy of Music in Katowice (class of Prof. Anna Górecka), he continued his studies at The Juilliard School with Prof. Jacob Lateiner and Prof. Yoheved Kaplinsky. Other important teachers include Dorothy Taubman, Andrzej Jasiński, Robert Levin, David Dubal, and Maria João-Pires.
He has performed in Europe, North America, and Australia, including concerto appearances with the Lithuanian Chamber, Budapest Chamber, Belarusian Radio/Television, NOSPR Katowice, Toronto Sinfonia, Niagara Symphony, and many others. Actively interested in chamber music, he has cooperated recently with the Atma Quartet in Bydgoszcz (Regionalny Inicjatywa Doskonałości). He judges in national and international competitions, recently the Lithuanian International Chopin, Classicalia International, and Canadian National piano competitions. Noted as a "revered pedagogue," (Tonebase Piano) he has been in great demand for master classes and lectures on Tonebase Piano and has given master classes, lectures, and research papers at Bydgoszcz and Katowice Academies, and the universities of Toronto, Carleton, Ottawa, and Queen's. He is the recipient of many awards, research grants, and scholarships from FRQSC, Canada Arts Council, Aspen Music Festival, McGill University, University of Toronto, and CFMTA for his pianistic, scholarly, and pedagogical achievements. He is currently based in Montréal, Canada, at McGill University Schulich School of Music, where he was invited to teach piano while still pursuing his doctorate.
Jarred is delighted to be hosting the Competition Studio of the 12th Paderewski International Piano Competition.
First Stage, Day 1
November 7, 2022
The first stage recitals began November 7th at 10am in the Concert Hall of Bydgoszcz Music Academy. The first twelve competitors (out of 39) performed.
Here are my impressions of the first twelve competitors:
Ms. Mia Pečnik of Croatia was the first to play. She performed Beethoven Sonata Op. 109 and Berg Sonata Op. 1. Ms. Pečnik's left hand possesses a fluency and poise which was noticeable in her Beethoven, particularly the third movement fast variations. Her verve at culminations in the Berg led at one point to her leaning over the piano almost in a standing position.
Next, Ms. Quio Liu of China performed two Scarlatti Sonatas and Barber's Sonata Op. 26. She took the repeat of the Scarlatti Sonata in F minor, adding subtle dynamic nuances and shading. Her Sonata in G, K. 455, was full of sparkling clarity especially in repeated note passages. She plays the final movement of Barber Sonata Op. 26 with vivacious spirit.
Mr. Andrzej Wierciński (Poland) performed the same Scarlatti Sonata in F Minor, with outstanding soft playing and tasteful pedal. I was impressed by his Bach-Busoni Chaconne in D Minor, which had flare for dramatic harmonies during octave passages. Wierciński's slow playing is likewise sensitive to harmonic nuance.
Next, we heard two Debussy Preludes: Ondine and Feux d'artifice and Beethoven's Waldstein Sonata from Mr. Youngho Park of Korea. His Feux d'artifice was thrillingly-timed and the famous octave passage at the end of the Waldstein was ripplingly clear.
Mr. Nejc Kamplet from Slovenia played Haydn's Sonata in D, Hob. XVI:33 and Rachmaninoff Sonata in B-Flat Minor, Op. 36. The force of Kamplet's sound in the Rachmaninoff was powerful. In his Haydn, the slow playing was colourful and dynamic, with successful use of the soft pedal.
Ms. Sun Choi Young from Korea gave a thrilling account of Liszt's Feux follets and the Vine Sonata No. 1. Vine's Sonata is a piece notorious for his insistence on "absolute speed" indicated by the tempo markings: Ms. Young delivered in spades. Her sense of poetic timing and energy were poised in a natural and articulate delivery.
Ms. Jaeyoon Lee from Korea finished the second session with Beethoven's Pathetique Sonata and Chopin Ballade in A-Flat Op. 47. Her breezy opening of the Ballade gave way to sensitive playing in the next themes and coda, which she thankfully spared of exaggerated loudness to which it is so often subjected.
Ms. Yoshimi Nakamura of Japan began the third session with JS Bach's Partita in B-Flat BWV 825, Schoenberg's Six Pieces Op. 19 and Scriabin's Fantasy Op. 28. Nakamura's playing is energetic in the fast movements of Bach. Her playing in the infrequently-heard Schoenberg showed the works' curious quirkiness.
Mr. Junlin Wu of China gave a wonderful performance of a Handel Suite in D minor HWV 428. Interesting contrasts followed: Scriabin Etudes Op. 8, No. 4, 5, and 6, in which Mr. Wu's elegant and sincere cantabile playing shone. His final piece was Scriabin's Fantasy in B Minor, which he played with driving tempi and a vibrant finish.
Ms. Yurika Kimura of Korea was the last to play in the third session. Her program included Scarlatti's Sonata in E, L. 162, Liszt's Chasse-neige etude (of which she gave shivering and rhythmic performance), and Bartók's Out of Doors suite, in which her performance of Night's Music featured a wonderful control of soft dynamics alongside clarity of voicing.
Mr. Marcin Wieczorek from Poland played Schumann's Faschingsschwank aus Wien, Op. 26 and Chopin's B-Flat Minor Scherzo to begin the final session. His Schumann playing is exciting, energetic, and he pays special attention to connections between each movement. He did the same in the Chopin Scherzo, which he concluded with vivacious polish.
Mr. Piotr Pawlak of Poland concluded the session with Franck's Prelude, Chorale, and Fugue, and Ravel's La Valse. Mr. Pawlak showed a great regard for harmonies and colour in the famous scalar passage of the Chorale. In La Valse, he effortlessly played the most demanding passages.
of the Chorale. In La Valse, he effortlessly played the most demanding passages.
Join us for the Competition Studio at 2:30pm (08:30 EST in Canada/USA) with competitors, jurors, and special guests! Find us at https://youtube.com/playlist?list=PL_4RT57jlc-Y50Aqj4bZ22pqbStUkoD7E
First Stage, Day 2
November 8, 2022
Today was the second day of the first stage: we heard another 12 recitals. It was also the first day of Competition Studio guests, starting with Ben Laude (https://www.youtube.com/user/TheClassicalMusicTV) from Tonebase Piano! Before and after the Competition Studio, I was surrounded by wonderful music. Here are some of my thoughts after today's recitals:
Ms. Lvje Zhang of China played Chopin's Sonata in B-Flat Minor Op. 35 and Messiaen's Regard de l'Esprit de joie from Vingt regards sur l'Enfant-Jésus. Ms. Zhang's soft playing in the Scherzo of the Chopin was beautifully wistful. Her Messiaen playing was rhythmic and active. The program choice was a link I wasn't expecting to work (to be honest) but the finale of the Chopin second sonata led naturally (even poetically) into Messiaen's world of turning chords.
Ms. Jordania Salome from Georgia performed a program that appeared themed around innocence and evil (or as Ben Laude and I eventually said, perhaps irony): Beethoven's Sonata Op. 31 nr. 1 and Scriabin's Poème Satanique, Op. 36. Ms. Salome captured innocence and naiveté in the Beethoven, and proved a ferocious interpreter of the richer and more intense passages of the Scriabin. She plays with a fiery conviction.
Japanese pianist Mr. Motohiro Sato performed three works: Mozart Sonata in G Major K. 283, Chopin Ballade in G Minor, Op. 23 and Scriabin's "Black Mass" Sonata Op. 68. The Scriabin showed Mr. Sato's particularly sensitive playing: this was eerie, mystical, and impressive. His Scriabin playing was colourful but not to the point of exaggeration. His Chopin coda was attentive especially to the important rhythmic details in the bass.
Finally, Ms. Moka Takubo of Japan performed a beautifully touching Mendelssohn Lieder ohne Worte, Op. 67 No. 2, in which Ms. Takubo paid great attention to harmonic colour. Her performance of Prokofiev's first Sonata was a lively take on this rarely-heard of his piano sonatas. She also brought special rhythmic verve to Haydn's Sonata in D, Hob. XVI: 37, which was played with special exuberance and spark.
Next, Mr. Yi-teng Huang of Taiwan brought a pair of sonatas in B-flat that couldn't be more different: an excellent program choice in my opinion. Mr. Huang brought delicacy, warmth, and verve to his performance of Mozart Sonata in B-flat major, K. 281. His Prokofiev likewise showed understanding of the warmth that contrasts the brutal elements of this sonata. The energy in his execution is palpable.
Mr. Muzi Zhao of China performed a refreshing JS Bach Prelude and Fugue, the C-sharp major from Book 1 of the Well-Tempered Clavier, followed by Liszt, Albeniz, and Messiaen works. Mr. Zhao's sprightly articulation in the Bach was delightful. His articulation and dynamic control in Liszt's Les jeux d'eaux à la Villa d'Este were impressive: this piece is often disappointing without a keen attention to special touch-forms.
Polish pianist Mr. Mateusz Krzyżowski performed Haydn's Sonata in G Minor Hob. XVI: 44 (one of my personal favourites from the Haydn piano sonatas) and Szymanowski's Fantasie in C Major, Op. 14. The Szymanowski first movement was particularly wonderful: Mr. Krzyżowski passagework and technical security are sparklingly clear. Mr. Krzyżowsk plays virtuoso passages with striking ease and dynamism.
We started the evening in F-sharp minor, with Korean pianist Hee-Jun Han performing the Mendelssohn F-sharp minor Fantasy Op. 28: her performance was secure, well-crafted, and ended gloriously. In the Dutilleux Sonata Op. 1, Ms. Han showed her technical polish alongside diaphanous quietude. Her pedaling was subtle and refined, held together by a clarity in the sharper passagework that gave the performance a sharp-edged excitement.
Noah Zhou of Great Britain performed Clementi's Sonata in A Major and Liszt's Réminiscences de Norma, S. 394, each with its unique sound world. Mr. Zhou's Clementi was fresh and colourful, especially his playing scale passages and arpeggios. He gave to this sonata a joyous energy coupled with textural changes handled with wonderful brightness. His Liszt spoke volumes: he showed sensibility in the louder moments that tend to border on bombastic.
Won Seok Choi of Korea performed two Scarlatti Sonatas K. 27 and K. 141, Chopin's first Ballade Op. 23, and Scriabin's fifth Sonata Op. 53. The Scriabin playing was glistening, tumbling, mysterious. Mr. Choi playfully characterized the pulsating, dancy second theme to great effect. He pays attention to two aspects that compellingly build this piece: sound changes during repeated tones, and an electric sense for silences. HIs dynamics were of a very broad range and he used it well.
Chinese pianist Yonghaun Zhong performed Chopin's Etude Op. 10 no. 4, Nocturne in E Major Op. 62 no. 2 and Scherzo in C-sharp minor op. 39 followed by Rachmaninoff's Etude-Tableau in A minor, op. 39 no. 6 and Liszt's Rigoletto Paraphrase. The most exciting moments included the fluttering arpeggios in the Chopin Scherzo which had the effect of zero-gravity, yet without flippancy. Mr. Zhong's successful Liszt playing was vivid, atmospheric, and effortlessly fluent.
Elia Cecino of Italy played a program in F-sharp minor: Chopin's tragic Polonaise Op. 44 and Scriabin's Sonata Op. 23. The connection between the key signatures was a good choice. Mr. Cecino excelled in the Scriabin through his pedal choices, timing, and phrasing: all brought together made crucial arcs in sound and wonderful textural effects. Of special note was Mr. Cecino's thoughtful work with the cardinal theme's at its return in the final bars of the dreamy third movement.
More tomorrow – the third of four days in the first stage. See you then! Don't forget to watch the Competition Studio to meet our special guests and hear highlights from the competitor performances.
First Stage, Day 3
November 9, 2022
Today marks the third day of the first stage and we heard another 12 recitals. In the Competition Studio, I hosted Dominic Cheli (https://www.youtube.com/user/TheClassicalMusicTV) from Tonebase Live Piano! Here are some of my thoughts after the third day of stage 1 recitals:
Ms. Galyna Gusachenko of Ukraine performed first, her program included three Scarlatti Sonatas, Haydn's C-major Sonata Hob. XVI: 50, and Chopin's A-flat Polonaise, Op. 53. The Scarlatti sonatas were the most touching, Ms. Gusachenko presented each sonata faithfully in its own mood, from the poetic d minor (K. 32), to the flowing, lively E-flat (K. 193), to the flashy B-flat (K. 551). In each Sonata, Ms. Gusachenko allows the character to develop naturally and responds with keen attention to details.
Mr. Adam Kałduński of Poland performed in B-flat minor and B-flat major: Bach's Prelude and Fugue in B-flat minor (WTC 1) and the great Prokofiev Sonata Op. 83. Kałdunski has a direct, unsentimental approach to sound production in Bach: the Fugue in particular had the impression of harpsichord playing. Kałdunski's Prokofiev was brash, jarring: essentially in character for this piece. Again, his direct approach to sound had a sobering effect on the second movement, emphasizing a matter-of-factness in this sonata.
Japanese pianist Ms. Shio Okui played a program of Couperin and Schumann. Her Carnaval Op. 9 showed great skill of changing mood between each piece. Florestan featured the best contrapuntal moments in her performance: its many layers shining through. In Chopin Ms. Okui was sensitive to the subtleties of tone distinguishing Chopin from Schumann. Her left hand playing in vivace and stretto portions of Marche des Davindbündler contre les Philistins was particularly successful.
Mr. Georgi Vasilev of Bulgaria opened with a beautiful Rameau Suite in E Minor, in which Ms. Vasilev thoroughly probed the character of each movement he played. Vasilev made an excellent first impression in his Le Rappel des Oiseaux with the use of sweetly singing ornaments. His Beethoven Sonata Op. 31 nr. 1 had moments of great orchestral temperament and texture: the second movement was among the highlights of the recital.
Mr. Yanan Liu of China played the demanding Sonata in A Major Op. 101 of Beethoven with an extroverted approach particularly to the fourth movement (with its uncompromising fugue). Mr. Liu's Mephisto Waltz had poignant moments of virtuosity alongside artistic flair.
Korean pianist Ms. Seunghui Kim played Schubert's Sonata in A Minor, D. 784 and Liszt's 12th Hungarian Rhapsody, a dark pairing. Ms. Kim has a broad, thundering sound in Schubert's knells, rendering the harmonic shifts from major to minor keys all the more striking. Her Liszt trills shimmered and arpeggios swayed beautifully in swelling dynamics. The E-major theme had moments of great lilt and in her roulades, Ms. Kim shows her feeling for nuance.
Ms. Saya Ota (Japan) played a program of two vastly contrasting sonatas: Haydn (No. 56 in D) and Scriabin's White Mass (No. 7, Op. 64), followed by the Liszt Rigoletto Paraphrase. Her Haydn was rich in dynamic shading and verve. The White Mass hurled us from the 18th century into the early 20th like a vortex. Ms. Ota has a wonderful capacity for colour changes and sensitive timings that generate poignancy.
Mr. Jan Wachowski of Poland played Bach's Prelude and Fugue in G Minor (Book 1) with a lyrical prelude followed by a lighter and jumpy fugue. In Chopin Nocturne in C minor Op. 48 nr. 1, he handled the wide arpeggiated chords in the slow theme with beautiful arcs of sound and soprano projection. Mr. Wachowski's Schumann Sonata in G Minor Op. 22 had moments of wildness without excess and a successful Rondo, in which active flutters were interspersed between moments of tenderness.
Mr. Minsung Lee (Korea) performed Scarlatti Sonata in E, K. 380, Haydn Sonata Hob. 32, and Bartók Piano Sonata. The Haydn and Bartók sonatas were by far the more interesting. Mr. Lee handles bass and alto dialogue in the Haydn with poise and clarity: the counterpoint was well crafted. In the Bartók, Mr. Lee's second movement was rather slow but did not give way to dragging; his third movement finale was exciting and packed a punch.
Mr. Pedro López Salas (Spain) gave a memorable account of Ginastera's Sonata Op. 22 after playing Haydn Sonata in A Major Hob. XVI:32 and Scriabin Preludes Op. 22 (replete with subtle coloration). The Ginastera featured excellent marcato, an adagio movement in which Mr. López Salas gave each phrase its due time and demonstrated skillful listening to nuance. His melodic playing projects beautifully in the hall and the final moments of the fourth movement were fantastic virtuoso piano playing.
Ms. Anfisa Bobylova of Ukraine played a Haydn Sonata Hob. XVI: 24 with grace and depth, especially in the second movement which was sensitive without affectation. She also played the Liszt Waldesrauschen etude with an exceptional sense of colour and dynamic range. There was an elegant sense of nature through Ms. Bobylova's use of space, time, and elegant pedal choices. Her Chopin Scherzo Op. 54 had a beautiful middle section.
China's Hin-Yat Tsang ended the last session with Haydn Sonata in E XVI:31 and two Liszt pieces: the Chasse-neige etude and Hungarian Rhapsody No. 12. Mr. Tsang's Haydn is witty: he attends not only to dynamic changes between major and minor keys, but to the moods they invoke. His ability to detect humour and irony in the score was satisfying to hear. The Liszt was well-handled, with the pedaled cadences in the Rhapsody sounding natively Hungarian, traceable to Nagy potpourri.
The final day of the first stage is tomorrow. More reviews then, followed by interviews with selected competitors and the results of the first stage.
First Stage, Day 4
November 10, 2022
Today marks the end of the first stage and we heard 3 recitals. In the Competition Studio, I hosted competitors from the first stage who talked about their experiences in the first stage and Jury Vice President Vanessa Latarche (https://www.youtube.com/user/TheClassicalMusicTV). Here are some of my thoughts after the last day of stage 1 recitals:
Ms. Sunah Kim of Korea played the Schumann Fantasie in C Major, Op. 17, with a wide array of mood changes and atmospheres. The famous leaps in the second movement were executed with rhythmic and melodic sense rather than technical flash. Ms. Kim's poetic and touching third movement had lush colour and ambiance, with wonderful sensitivity to voicing and space between the chords. Her last chords resonated beautifully.
Mr. Atsushi Imada (Japan) performed Haydn Sonata XVI: 40 in G Major, Liszt La leggierezza etude, and Brahms Paganini Variations (Book 2). Mr. Imada's Liszt had sparkling moments of high register playing with a firm sense of melodic phrasing in the left hand melodies. The hallmark passages of this etude were played successfully. The fourteenth variation of the Brahms was handled with hesitations which enhanced the performance through rhythmic suspense and groundedness.
Mr. Danylo Saienko (Ukraine) played a program including Bach's G minor Prelude and Fugue (Book 1) with a lyrical Prelude and lively Fugue. He played a pair of Kosenko etudes, which were haunting in mood and colour. Mr. Saienko's Liszt's Funerailles had wonderful phrase development in the infamous octave passage with its well-constructed dynamic energy. He concluded with a powerful Tchaikovsky – Pabst Paraphrase de Concert sur l'opera "Eugene Oneguine" executed with great conviction.
Stay tuned for the results of the competition, announced at 4pm today! Tomorrow we'll begin hearing the first recitals from the next stage, and in the competition studio we'll be hosting Noa Kageyama and talking about performance psychology.
Second Stage, Day 1
November 11, 2022
The second stage began this morning at 10:00am. In this stage, competitors must play a 40-45 minute recital featuring two Paderewski works. The rest of the program is free-choice. Today in the competition studio, I talked to Dr. Noa Kageyama from New York (https://www.youtube.com/user/TheClassicalMusicTV) about performance psychology and preparation for the stage.
My impressions of the competitor's performances were generally positive today, although some things I heard were less than successful in some cases. Here are my impressions of the first day recitals:
Ms. Sun Choi Young was first to play: her program began with Paderewski works (Legende, Op. 16 Nr. 1, Burlesque Op. 14 No. 4), followed by Debussy Images: Livre 1, and Beethoven's Sonata Op. 109. Ms. Young's best playing was her Debussy; I found her Paderewski and Beethoven less compelling. In Images, Ms. Young's Reflets dans l'eau was lyrical and breathy; Hommage à Rameau had ethereal and searching qualities, with a poignant final chord of tremendous softness.
Ms. Yoshimi Nakamura (Japan) played Paderewski's works first in her program (Legende, Op. 16 Nr. 1, Menuet Op. 14 No. 1), in which cleanliness and accuracy were notable (the character changes in the menuet might have been nobler had there been more dynamic fluctuation). Ms. Nakamura's performance of Schumann Kreisleriana was articulate, with sincere effort to create captivating and numerous character changes between each movement..
In his Stravinsky-Agosti Firebird Suite, Mr. Junlin Wu thrilled the audience with his ferocity and dynamism. This was no doubt the highlight of the recital, which was preceded by Chopin, Albéniz, and Paderewski. Mr. Wu plays with commitment to each composer's sound world, impressive given his program of such highly diverse works as Paderewski's Polish national dances (though the mazurka could have had more sway), church bells in Córdoba, and Chopin's Variations Brillantes.
Mr. Piotr Pawlak of Poland remarkably performed Godowsky's Passacaglia in B Minor and Prokofiev's Sonata in C minor Op. 29. I was particularly impressed by Mr. Pawlak's voicing in the Godowsky, who insisted performers make the "theme stand out in all the variations…but not too prominently when it is not the leading voice." This work requires subtle sound gradations, sufficient to articulate its Schubertian roots. Pawlak is an interpreter with conviction and great character.
Georgian pianist Ms. Jordania Salome began the second session with Paderewski works (Album de Mai: Au soir and Caprice valse), both of which had delightful contrast and individuality. Her Caprice valse was playing of a more assured and vivacious quality. Then, she played the Brahms Sonata in F Minor Op. 5, with its essential orchestral qualities intact but with a somewhat cautious regard for every orchestral nuance.
Ms. Moka Takubo of Japan was performed with great vigor and zest in the Shotakovich Sonata Op. 12 and Liszt Ballade in B minor. Great technical performance alongside vividly triumphant octaves were the highlight of Ms. Takubo's Shostakovich. The substantial works were balanced by four short Paderewski pieces, each played with a keen sensitivity to voicing and dynamics (Melody Op. 16 no. 2, Un moment musical Op. 16 no. 6, Scherzino Op. 10 no. 3, Caprice valse Op. 10 no. 5).
Mr. Yi-Teng Huang (Taiwan) played the Paderewski Menuet in G buoyantly and nobly. His Mozart Fantasy in D minor included tasteful ornaments and improvisations. His Beethoven, while it started a bit shakily, developed into a glorious climax at the development. The moodiness of the Prestissimo I felt might have been more exhilarating if it were more sudden. His execution of the fifth variation in the third movement was effortless and strikingly dynamic.
Chinese pianist Mr. Muzi Zhao played thrillingly in the first movement of Schumann's Kreisleriana Op. 16; a catlike precision prevailed in the eighth movement bass line, with its off-kilter pulsations. Mr. Zhao's Paderewski playing featured dark bass colours in Au soir, Op. 10 No. 1, touching singing in Chant d'amour Op. 10 no. 2, and captured many of the qualities native to the Polonaise (although I could have used more nobility in the main theme).
Second Stage, Day 2
November 12, 2022
The second stage continued this morning at 10:00am. Today in the competition studio, I talked to Dr. Yoheved Kaplinsky from New York's Juilliard School about educating students in their early years and the importance of high-level training from the beginning.
In the meantime, some exciting piano playing took place in the Concert Hall of the Academy of Music today. This day was full of superb sounds and repertoire. Here are my impressions of today's recitals:
In the first recital, we heard Mateusz Krzyżowski (Poland) performing Paderewski Moment Musical Op. 6 No. 6, Légende in A Major, and Sarabande Op. 14 No. 2. The Paderewski was rich in dynamic sensitivity and melodious phrasing. Liszt's Vallée do'Obermann was harmonically rich and played with poise. Mr. Krzyżowski handled Ginastera's Sonata No. 2 clangorous dissonances and crashing finale with enthusiasm and control.
Mr. Noa Zhou of Great Britain performed Mussorgsky's Pictures at an Exhibition, and an equally powerful Rachmaninoff Etude-Tableau in C-Sharp Minor, Op. 33 no. 9. Mr. Zhou's playing in the Paderewski was a bit shy, he opened with one of the more intimate of Paderewski's miniatures. The Russian repertoire made the impression of pianistic virtuosity without pretentious gymnastics and a capacity for bold sound choices.
The performance of Mr. Elia Cecino of Italy was a success. His Beethoven Sonata in G, Op. 31 no. 1 was one of the more orchestral and vibrant I've heard recently. His Shostakovich Prelude and Fugue in B-flat major had lucidity and flare. But it was in the Gounod-Liszt transcription of Waltz from Faust that Mr. Cecino struck me as truly artistic: his octaves, bass dynamics, and above all, wise pedal choices in shimmering trills and scale passages gave this piece a pristine surface.
Ukraine's Galyna Gusachenko played a set of Schumann short works, Op. 99 No. 1-8 between her two Paderewski pieces, the Menuet Op. 14 No. 1 and Mazurka Op. 9 No. 3, the latter were played more confidently in style. Ms. Gusachenko's most riveting moments were three Debussy Preludes from Book 1: "Des pas sur la neige" had poignant loneliness and distance, "La danse de Puck" was quirky and magical, and "Ce qu'a vu le vent d'Ouest" whirled, but not chaotically.
Mr. Adam Kałduński's program included three Paderewski, the Menuet and Nocturne were elegant and well-paced. Kałduńki's sound was richer and warmer in this round, in the Nocturne, harmonic colours were beautifully executed. But nuance and lyricism were not everything: the virtuoso passages of Chopin's Ballade Op. 38 had agitation and drama, with powerful execution. Kałduński has a wonderful range of colour and nuance in his conceptions of each work.
Ms. Shio Okui finished her recital with Chopin's enormous Sonata in B Minor Op. 58. In the first movement, Ms. Okui created timings subtly and beautifully in her pedal choices and careful attention to harmony – specifically in the slower portions of the Sonata. Her sound floated to the end of the third movement ethereally. Her playing in the fourth movement had vigorous pulsation achieved with a deft sense of articulation and voicing: the virtuosic last phrases were wonderfully performed.
Mr. Georgi Vasilev's all-Paderewksi recital finished with a breathtaking performance of the Variations and Fugue in E-flat Minor, Op. 23. Mr. Vasilev's focus and endurance in the enormous fugue were especially brilliant. Among the many moments of excellent playing were Variations 4 and 5, with pearl-like clarity and rhythmical precision. Variations 15, 16, and 17 had terrific cyclicity – like a harmonic intermezzo before the final variations and fugue, which Mr. Vasilev played gloriously.
Ms. Saya Ota of Japan along with Paderewski shorter works performed Liszt's transcription of Wagner's Isolde's Liebestod and finished with the Brahms Handel Variations Op. 24. The Handel Variations were paced with excellent timing between the variations. Ms. Ota treats the harmonies in the Fugue carefully: she is sensitive to each voice and its significance to the texture. She finished with glowing ease in the final bars with leaps in sixths and without forcing the grandiose last chords.
Tomorrow morning will be the final three recitals from second stage competitors. Stay tuned for more exciting piano playing and interviews with competitors and jurors in the Competition Studio!
Second Stage, Day 3
November 13, 2022
The second stage concluded this morning at 1:00pm. Today in the Competition Studio, I will host four guests: two competitors and two jurors: Noriko Ogawa and Vanessa Latarche, who teach in top London music schools (Ogawa is Professor at Guildhall School of Music and Drama; Latarche is Head of Keyboard at the Royal College of Music).
The final three recitals from the second stage gave me these impressions:
Mr. Pedro López Salas (Spain) played a cleverly-voiced pair of Soler Sonatas rarely heard in competitions these days. His Paderewski required pieces – Op. 16 No. 4: Nocturne and Op. 14 No. No. 6: Cracovienne fantastique did not entirely convince me. However, his Pictures at an Exhibition were more than impressive. Mr. López Salas's control over fortes and fortissimos in the Gates of Kiev produced nobility and grandeur; his frightful and ironic playing in Baba-Jaga was excellent.
Hin-Yat Tsang of China began with a rather unpolished Polonaise-Fantasie, but he produced colourful and pristine scales and colours in Paderewski's Caprice Valse and played broad phrases in Melodie. I enjoyed Tsang's left-hand voicing in both Paderewski works. His Prokofiev Sonata in D Minor Op. 14 featured an excellent Scherzando movement, with lively pulsations and quick dynamic changes. The fourth movement had a rhythmical, driving mood.
Danylo Saienko of Ukraine performed an enormously challenging program: Schumann's Sonata Op. 14 and Bartók's Sonata Sz. 80, he placed the Paderewski works in between ( Album du mai, No. 1 "Au soir" and No. 3 "Scherzino", the Scherzino was more interesting playing). Mr. Saienko is a volcanic pianist, whose inner sensitivity to brooding moments is always ready to erupt. His performance of the Bartók Sonata in the third movement was a case of exceptional virtuosity and speed.
Now, we wait for the results – the jury is still deliberating. Results will be announced at 5:00pm in Bydgoszcz. Stay tuned and watch the announcement live here: https://youtu.be/8rGRq-A9DMk.
Semi Finals, Day 1
November 15, 2022
It's wonderful the difference a different hall makes. The concert hall of the Pomeranian Philharmonic allowed semi-finalists a greater opportunity to soar through great repertoire in their recitals. Each day, we heard five recitals in the morning and early afternoon, and in the late afternoon and evening five Mozart Piano Concertos. All competitors had to program a solo recital featuring a commissioned work by Hanna Kulenty, titled AtlantissSolo (it lasts 5 minutes more or less, depending on the tempo); this watery work most often appeared first on today's recital programs. All-ten semi finalists performed each day: the first five in recitals and second five in concertos.
Jun Lin Wu (China) began the semi-finals with Kulenty, followed after with a pair of B minor Sonatas: Haydn and Liszt. The Haydn was rather reserved and lacked definition in dynamic changes that show significant mood changes. His temperament in the Presto was the best quality in the performance. Mr. Wu's performance of the Liszt featured a constant tapping on the surface of the pedal which disrupted both the more exciting and delicate passages. By the slow fifth theme in f-sharp major, the pedaling improved. Some ebb and flow in the second theme made a positive impact on phrasing. Descending passages have a good harmonic sense of colour and dynamic range, with clever voicing in the final B-major chords.
Piotr Pawlak (Poland) opened with Kulenty AtlantissSolo followed by Liszt Sonata in B minor and Ravel's Pavane pour un enfante défunte. Mr. Pawlak's Kulenty had shading that accentuate the contours of this music. Mr. Pawlak's Liszt had coherence in shading of soft cadences: Pawlak listens well to the colour changes. His tempo unity in fugato was good. Some instances of dynamics were bold and declarative in inner melodies, as well as moments of the shimmering soprano lines. Final soft phrases led out of the sonata beautifully with an exceptionally beautiful voicing in the soprano chords. Ravel's Pavane comes naturally to Pawlak: his pristine voicing brought about acrid bittersweetness: this was Pawlak's best playing.
Moka Takuba (Japan) performed Kulenty's AtlantissSolo from memory. Her voicing of internal melodic lines made an impact on the layers in this work in a Romantic way. Her Mendelssohn-Rachmaninoff Scherzo was bouncy and clean: the best playing of the recital. Chopin Sonata Op. 58 was rather breathless. The second movement was clear, its ending moved quickly into the third movement through common-tones of E-flat and D-sharp. The third movement's middle theme had motion above all: this was not done with sentimentality but rather a feel for the melody's progression. The fourth movement's diabolical theme was rather nocturne-like, but the exciting scales following it had terrific playfulness. The coda was excitingly played.
Yi-Teng Huang (Taiwan) combined a Schubert-themed program and finished with the Kulenty. It was an interesting concept for this program. I have a partiality to the Sonata in C minor, which has always mesmerized me, so the Schubert and the Kuletny AtlantissSolo were the most memorable. The Schubert first movement was colorful and articulately sensitive. The second movement was charmingly disarming. Mr. Huang's octave voicing is tuneful and has Schubertian the love-pain mixture (this mixture was especially compelling in the fourth movement). He played the Kulenty in jazzy rhythms and imbibed it with an ethereal atmosphere.
Mateusz Krzyżowski (Poland) began with Brahms Variations on a Theme by Schumann, placed the Kulenty in the middle, and finished with Prokofiev Sonata No. 4 in C Minor. The Kulenty was nocturne-like, emphasizing to almost bel canto degree. The singing tone and spaciousness of this work was an interesting contrast to the Brahms. Mr. Krzyżowski's Prokofiev was (for me) the most compelling playing on his program: phrasing, clever dynamics, and stylish articulation prevailed. His playing in the second movement was winding and serpentine, with forward-looking phrases and dark atmospheres that had an eerie tinge.
After interviewing Paweł Kapuła today in the studio (https://youtu.be/9YmTbngP3Zg), we heard the next group of semi-finalists playing Mozart concertos.
Evening Mozart Concerti:
Cecino Elia of Italy played the Concerto in C Minor K. 491. He had a shaky start but recovered. In the development his left hand played well, and he somewhat modified (improvised?) the Hummel cadenza at the beginning and end. He played with gusto in the second movement, projecting strong dynamic intentions in the alternations between orchestra and piano. Fortunately he did not rush the finale.
Shio Okui (Japan) gave a successful performance of Concerto in C Major, K. 467. Her trilled cadences leading into orchestral tuttis were patient and resolute. Her cadenza was clean and again presented a unity with the orchestra at the moment of the cadence. The lift and singing tone of the second movement could have been more pronounced. Somewhat playful in places, the third movement was played in a straightforward and rhythmic manner.
Georgi Vasilev (Bulgaria) performed the lyrical G-major Concerto K. 453. It was a truly sensitive performance. His articulations and contact with the orchestra were natural in dialogue and dynamic. His second movement had gentility and warmth. His third movement featured an attractive recapitulation with new dynamics and fresh nuance.
Pedro López Salas (Spain) played Concerto in C Major, K. 467. The first movement cadenza gave the distinct impression of improvising on-the-spot. In the second movement, Mr. Salas was sensitive to voicing and balance between the melody and orchestra. The third movement tempo was vivacious and at times delightfully wild, spontaneous, and witty.
Danylo Saienko (Ukraine) played Concerto in D Minor, K. 466. This particularly dark work features tricky ostinatos within which the soloist must project a melody: this was a successful component in the performance. Mr. Saienko gave great upbeats in the second movement, blending into the orchestra succinctly. His cadenza in the third movement was exciting and well-timed dissonance.
Semi Finals, Day 2
November 16, 2022
Today the excitement was on an even higher level than yesterday: by tonight at 9:30pm CEST we will know which semi finalists will advance into the final to play a concerto with the Pomeranian Philharmonic and Maestro Jakub Chrenowicz.
Today in the Competition Studio, I talked to composer Hanna Kulenty, who agreed very last-minute, thankfully. Ms. Kulenty wrote the commissioned work AtlantissSolo for the competition. Then, Carol Leone joined us to talk about innovations in piano design.
Elia Cecino (Italy) began with Schumann's Symphonic Etudes, which ended with richly vibrant playing. Mr. Cecino's fortes don't lack depth even in fast playing. Kulenty was rather Debussyean in atmosphere, with nice contrapuntal playing in the second statement of the melody. Prokofiev's Sonata Op. 83 had broad and transparent textures and at most times excellent projection. In the second movement Cecino has poignant dissonances; diminuendos are where he really shines.Beautiful transition into quiet coda. The torrid ending of the third movement was played with great power and verve.
Okui Shio (Japan) has had consistently excellent recitals and her concerto yesterday was the same. She opened with Kulenty AtlantissSolo in a slower tempo than we've heard it and with a Romantic approach to phrasing. Ms. Shio's Chopin Etude Op. 25 nr. 7 following her slowish performance of the Kulenty was a daring choice. Her Ravel Ondine moved the program forward: the climax was cautious but had conviction and the final arpeggios were atmospheric and watery. In Rachmaninoff Sonata Op. 36 there was voicing of chordal passages and a tireless coda replete with spiraling dynamics.
Vasilev Georgi (Bulgaria) opened with Kulenty AtlantissSolo followed by Brahms's Third Sonata Op. 5. The Kulenty had excellent tempo movement and pacing. By contrast, Brahms was concrete and eventful. He took the repeat of the first movement. In the development, Vasilev's left hand proved beautiful cello-like tones. Vasilev brought about the recapitulation tastefully. He proved a lyrical player in the second movement, with gentle touches on chordal accompaniments. He became slightly less controlled in the Scherzo, but made it through. The Finale had poise: Vasilev has continually retained secure bass lines.
Pedro López Salas (Spain) also opened with AtlantissSolo, imbuing it with contrasts between varied phrases and moods. His soft playing is serene and contemplative. In Granados Goyescas Book II: El Pelele, tunes danced and sang in articulations enlivening the mood with bounce and an exciting finale with energy to burn. He finished with Schumann Kreisleriana. The dynamic energy and phrasing were electric. Intermezzo 1 had singing left-hand lines and the Intermezzo 2 had a distinct character with subtle voicing. In the slow playing of, Mr. Salas has an excellent dynamic sense; colourful poetic timing and nuance. His softness in the eighth movement was catlike.
Saienko Danylo (Ukraine) played an enormous program after the Kulenty: Beethoven Sonata Op. 110, Scriabin Black Mass Sonata Op. 68, and Liszt Scherzo und Marsch. His Kuletny was well-conceived in tempo and in pulse, feeling for the jazz in this piece and sense of improvising. His Beethoven was on the rushed side in the second movement, but the Adagios were wonderfully narrated. The first Fugue had secure construction of form and moments of excellent feeling for phrase endings and movement into new contrapuntal arrangements. Second Fugue and coda had excellent presence of all voices and energy to the last chord.
JunLin Wu (China), Mozart Concerto No. 21 in C major, K. 467 played the first movement with great energy and enthusiasm. His cadenza had a freshness of invention and perfect unison with the orchestra at the cadence. The second movement was gracious and gentle in pacing, with perfect placement of the last orchestra chord and piano in unison. Character of the third movement was joyous and flowing. Mr. Wu's chamber music playing in collaboration with the orchestra was intuitive but informed by his apt listening. He has lovely dynamic shadings for major-minor harmonies, to render them not only different but characterized.
Evening Mozart Concerti:
JunLin Wu (China) played Concerto No. 21 in C major K. 457 first movement with great energy and enthusiasm. His cadenza had freshness of invention and perfect unison with the orchestra at the cadence. The second movement was gracious and gentle in pacing with ideal placement of the last orchestra chord and piano in unison. This is no easy achievement: one must be in perfect alignment with the ensemble and conductor to do it. The character of the third movement was joyous and flowing. Mr. Wu's chamber music playing in collaboration with the orchestra was intuitive but informed by his apt listening. He has lovely dynamic shadings for major-minor harmonies, to render them not only different but characterized. His driving playing toward the end of the third movement gave a strong impression.
Piotr Pawlak (Poland) Concerto No. 20 in D minor K. 466, a concerto suitably dramatic for this powerful competitor. Pawlak waits for the orchestra's sound to subside before entering; he understands the soloist-orchestra relationship. He had elegant voicing moments in the development. In the recapitulation he initially sounded slightly tired but toward the cadenza the energy in his playing rose. His cadenza featured piquant darkness even in the highest register. His cues in the second movement were precise and his phrasing flowed with the orchestra naturally. His ornaments were charming, elegant, and dynamic. His left hand playing is articulate, often more than right hand melodies. He drove the final movement with gusto; his soft playing is never listless. His final cadenza was sharp, impressive in speed and serious in execution.
Moka Takubo's (Japan) Concerto No. 20 in D minor K. 466 had a strong solo entry in the first movement, continuing into secure voicing and solid interaction with the orchestra. Ms. Takubo creates space for the orchestra to fill with her great sense of range. Her second theme at times was a bit forceful (even from the back of the hall), but the fact is that her sound projects well. Ms. Takubo plays the second movement at a lively tempo. The more touching moments in the second movement were played with unsentimental, direct expression. The arpeggiated figures in the middle of the second movement had excellent dialogue between orchestra and soloist. Especially in the strings and piano chords, a clear sense of alignment and pulsation prevailed. Tempo is maintained in soft places as well as loud places; this movement ended in perfect unison. In the third movement, Ms. Takubo moved toward cadences and orchestral interludes enthusiastically and with rhythmic energy.
Yi-Teng Huang (Taiwan) played a creative and successful Concerto No. 17 in G major, K. 453. The first solo was jovial and naive, Mr. Huang built phrases in organic oneness with the orchestra. He gave a modest cadenza without excess in dynamic rapture or flamboyance; the cadenza was proportioned to the movement. The orchestra proved loyal support in the second movement; Mr. Huang gives the melody a beautiful tone sensibly balanced atop the orchestra. The ponderous harmonies were treated sensitively: orchestra and soloist interchanged eloquently. In the third movement, the repeating notes were given individual sounds, one of the chief difficulties of playing fast, repeating tones on a piano. The winds and piano in dialogue created a charming ambiance here. In passages of two voices played in syncopations, Huang has great ears for voicing and dynamic shape. HIs ornaments were wonderfully done. He realizes excellent dynamic intention and unity with the ensemble.
Mateusz Krzyżowski (Poland) was the only competitor to play Concerto No. 19 in F major, K. 459. The first theme had noble poise; in the second theme, Krzyżowski imitates string articulations. Krzyżowski's left hand playing created a lucid harmonic connection with the orchestra. His cadenza was lyrical and controlled. His second movement featured contrasts of colour and sound quality. His sensitive intentions were clear through a great softness of volume. Contrapuntal phrases were piquantly balanced between piano and orchestra. Orchestral support through the basses and celli in particular were noticeable. The third movement was superbly Mozartean in many aspects: clean pedal, playful chromatics, stirling trills, pearl-like scales, imitation (back-and-forth) of orchestra in piano and vice-versa, improvised versions of the same themes, and many diverse dynamics during repetitions.
Now we wait for the decision of the jury about the semi-finalists! The finalists will be announced in about one hour and a half.
Final: November 18, 2022
In the final stage, competitors must perform one large piano concerto with Maestro Jakub Chrenowicz and the Pomeranian Philharmonic. Today in the Competition Studio, I discussed with Maestro Chrenowicz many essential aspects of working with orchestras and soloists. After the lights dimmed at Philharmonic Hall and formal introductions were done, we began with one of the most beautiful concertos of the piano literature.
Piotr Pawlak played Beethoven's Concerto in G major, Op. 58. As Mr. Pawlak entered after the orchestral tutti, he gave exquisite push-and-pull in timing and dynamics and an excellent sense of ensemble. He also gave the essential trills of the first movement a great degree of dynamic shape. The orchestra and Maestro Chrenowicz offered a supportive background. The first resounding chords of the recapitulation were rich and noble; Pawlak is fluent in this concerto's emotional register. In the cadenza, Pawlak's playing had great energy – especially impressive given the length of this competition. He also has an intuitive sense of harmonic nuance to back up his soft playing, as was equally seen in the second movement. I enjoyed Pawlak's playing in the ambient E minor section of this movement. The third movement was vibrant: orchestral tuttis again did not disappoint. Pawlak plays lead-in passages to orchestra phrases with dynamic correspondence intact. He has great forward motion in his playing in this movement. His figuration playing makes beautiful use of the piano's capacity for shimmering tone. Rhythmic and bouncy, his staccato playing shows the good-humoured character of Beethoven without losing the nobility of this concerto. Pawlak's final minute showed exceptional pianistic capacity alongside ensemble playing of a high level.
Matthew Krzyżowski made a wonderful choice of. Szymanowski Symphony Concertante, Op. 60. Far from a simple work, this uncommonly-played concerto (at least in competitions) poses a significant challenge to the soloist. With a great endurance and focus Krzyżowski handled the many time signature changes and dynamic shadings required to bring this to life. In the famous flute-piano duet at the opening of the second movement, Krzyżowski's control of soft playing creates ambiance, warmth. There were moments of Scriabinesque playing. The orchestra produced wonderful colours in this movement. Krzyżowski's trilling to pppp was wonderfully-paced. He also had great dynamic capabilities in louder playing: his crescendi aligned with the orchestra in crucial culminations and allowed him to remain heard over a great mass of sound. The ad lib in this movement was ethereal and mystical. In the third movement, Krzyżowski's rhythmic drive was evident through his articulations. His avvivando playing also offered great contrast to the orchestra's moderato passages without rushing. He always articulates the staple broken octave clearly, giving the work a sense of unity and continuity. There was spectacular passagework and dynamism in the climaxes of the third movement. The final phrases were in perfect sync.
Shio Okui performed Chopin's Concerto in F minor, Op. 21. In the maestoso she opened with a rather muted forte, but nevertheless maintained Chopinian refinement. The development saw a more full-bodied sound develop, not only through Chopin's dynamics but also in the performance itself. Ms. Okui's most beautiful playing happens in sighing and accented phrases, toward the end of the development she had a finely-attuned sense of the orchestra's harmonies in cooperation with the piano part. Somewhat direct playing in the recapitulation, without sensuality. The orchestra was excellent in timing unforgiving unisons following piano roulades. The second movement's strongest element was Ms. Okui's sense of event and timing of harmonic moments. The operatic sense of the middle section was decorated by beautiful harmonic groups and colours. Ms. Okui was often slightly faster than the orchestra in reaching arrival points. The accented pulses of the third movement were at all times. There was a lively sense of dialogue between soloist and orchestra in mazurka themes, where the sway of the dance was pronounced. Her transition into the theme was elegant, the orchestra had a beautiful onset into the melancholic F minor. The jubilant F major thirds and arpeggios were pearly, cadences with orchestra were precise (and therefore lovely to hear).
Final: November 19, 2022
The excitement in Pomeranian Philharmonic Hall continued tonight. We heard the last two finalists in two contrasting concerti of the same key: E-flat. Before that, in the Competition Studio I interviewed Liz Parker (PR Specialist, Stylist, Brand Consultant).
Pedro López Salas (Spain) performed Liszt's Concerto in E-Flat Major, which he opened confidently with soft playing in the most intimate moments. The duet between clarinet and piano was terrific in timing and balance: a forecast for the entire performance. López-Salas has been consistent in the competition with a high level of clarity and precision. His diminuendo in the chromatic scale ending the first movement was in excellent cohesion with the orchestra. In Quasi Adagio, López Salas showed great concern for the harmonic colours of the melody and great attention to moments when he accompanied the orchestra. As a player of more virtuoso passages his dynamics did not always convince me, but the long trill accompanying the orchestra was splendid. The scherzando had transparency and vibrant articulation, again one of López Salas' strengths. Toward the cadenza his use of dynamics became more engaging. The chromatic octaves returning to theme had verve and focus. In the fourth movement, dialogues between brass and piano were timed exactly; the sense of chamber music oscillating between piano and various instrument groups was a strong quality. The final culmination was exciting, jubilant and energetic: solid left-hand interaction with the orchestra made this firm but not forceful: a successful performance.
In Beethoven's Concerto in E-Flat Major, Op. 73, Danylo Saienko (Ukraine) made statements of pianistic strength. His playing in the second theme was crystalline. In some of the faster culminations, Saienko might've waited a bit longer, allowing the orchestra to take the lead. In the development the orchestra (particularly the winds) had more noticeable dialogue. By the reprise, the orchestra and soloist were more aligned. Saienko's final flourishes were played with the great conviction of the first movement. Somehow the dynamics between orchestra and soloist never seem to build to anything, but the diminuendi are sensible. In the Adagio, the piano playing was somehow paler. The orchestra had a full-bodied sound and at important moments of the melody passing into the piano, there was palpable unity in sound. The space between the second and third movements with its sunlit chords made an excellent transition. The Rondo had a lively tempo with a buoyancy that never lost control. The affable character in the fast passages here was excellently conveyed. Dynamics in the theme were clearly distinguishable but the piano could have been softer. An excellent control over soft, fast accompaniments in the left hand was excellent. Again, melodic exchanges were precise in the most delicate of passages: an excellent quality.
Now we wait as the jury deliberates – the results will be announced sometime tonight.
Congratulations to the finalists of this year's competition! Congratulations to all the competitors who performed this year. This was my first opportunity to be the Paderewski Competition Studio Host and Reviewer: thank you to the organizers at Paderewski Music Association, the wonderful Jury, and the city of Bydgoszcz who have attended and enthusiastically supported us.
The competition is co-financed by the Minister of Culture and National Heritage from the Fund for the Promotion of Culture – a state special purpose fund, as part of the "Music" program implemented by the National Institute of Music and Dance, and by the City of Bydgoszcz.
Partner of the International Paderewski Piano Competition  – Kujawsko-Pomorskie Region.