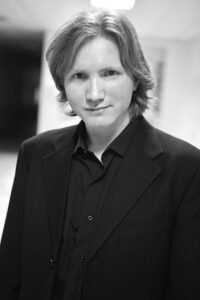 Mikhail Turpanov 
Rosja / Russia
Urodził się 17 maja 1989 roku. Student Konserwatorium im. P. Czajkowskiego w Moskwie (studia podyplomowe). Koncertował w Rosji, Serbii, Francji, Norwegii.
2010 – I nagroda III Międzynarodowego Konkursu Pianistycznego pamięci V. Lothar-Shevchenko w Nowosybirsku w Rosji.
Born on May 17th, 1989. Student at the Moscow State Tchaikovsky Conservatory (post-graduate studies). Gave concerts in Russia, Serbia, France, Norway.
2010 – I prize at the III International Piano Competition in the memory of Vera Lothar-Shevchenko in Novosibirsk in Russia.
PROGRAM / REPERTOIRE
I etap / I stage
N. Medtner Improvisation in B-flat minor op. 31 No. 1
C. Debussy Images Book I
Reflets dans l'eau
Valse romantique
P. Pabst Concert Paraphrase on Tchaikovsky's Eugene Onegin op. 81
II etap / II stage
I. J. Paderewski Miscellanea: Un moment Musical op. 16 No. 6
Polish Dances: Mazurka in B major op. 9 No. 4
Humoresques de Concert: Caprice (genre Scarlatti) op. 14 No. 3
Album de Mai: Scherzino op. 10 No. 3
D. Scarlatti Sonata in G minor K. 450
Sonata in G major K. 470
S. Prokofiev Rondo op. 52 No. 2
Etude op. 52 No. 3
F. Schubert Wanderer Fantasia in C major D. 760
Allegro con fuoco ma non troppo
Adagio
Presto
Allegro
Półfinał / Semi-final
J. S. Bach Chromatic Fantasia and Fugue in D minor BWV 903
A Schnittke Improvisation and Fugue
J. Brahms Variations and Fugue on a Theme by Haendel
op. 24
J. Zarębski Piano Quintet in G minor op. 34
Allegro
Adagio
Scherzo: Presto
Finale: Presto
Finał / Final
P. Tchaikovsky Concerto No. 1 in B-flat minor op. 23
Allegro non troppo e molto maestoso
Andante semplice
Allegro con fuoco