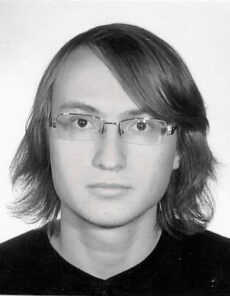 Ilya Maximov
Rosja / Russia
Urodził się 6 czerwca 1987 roku. Ukończył Akademię Muzyczną im. Gnessinych w Moskwie i Konserwatorium Muzyczne w Barcelonie. Koncertował w Hiszpanii, Japonii, Francji, Włoszech, Rosji i na Kubie.
2011 – półfinalista Konkursu Pianistycznego im. A. Rubinsteina w Tel-Awiwie.
2010 – II nagroda Międzynarodowego Konkursu Pianistycznego w Hilton Head w Stanach Zjednoczonych.
2008 – II nagroda, nagroda publiczności i nagroda za najlepsze wykonanie utworu współczesnego na Konkursie im. M. Canals w Hiszpanii.
Born on June 6th, 1987. Graduate from Gnessin Music Institute in Moscow and Music Conservatory in Barcelona. Gave concerts in Spain, Japan, France, Italy, Russia, Cuba.
2011 – semi-finalist in Arthur Rubinstein Piano Competition in Tel-Aviv.
2010 – II prize at the Hilton Head International Piano Competition in the USA.
2008 – II prize, public prize and the best contemporary piece at the Maria Canals Competition in Spain.
PROGRAM / REPERTOIRE
I etap / I stage
J. S. Bach Prelude and fugue in C major BWV 870 WTK II
S. Rachmaninov Etudes-tableaux op. 33
No. 3 in C minor
No. 6 in E-flat minor
No. 9 in C-sharp minor
C. Debussy Etude No. 11 Pour les Arpèges composés
F. Liszt – N. Paganini Etude in E-flat major No. 2
II etap / II stage
I. J. Paderewski Miscellanea Nocturne: op. 16 No. 4
Humoresques de Concert: Caprice (genre Scarlatti) op. 14 No. 3
C. Franck Prelude fugue and variation in B minor op. 18
S. Rachmaninov Sonata in B-flat minor op. 36
Allegro agitato
Non allegro
Allegro molto
D. Scarlatti Sonata in D minor K. 32
Sonata in D major K. 33
Półfinał / Semi-final
J. Haydn Sonata in D major Hob: XVI: 42
Andante con espressione
Vivace assai
S. Prokofiev Sonata in B-flat major op. 84
Andante dolce
Andante sognando
Vivace
A. Dvořák Piano Quintet in A major op. 81
Allegro, ma non tanto
Dumka: Andante con moto
Scherzo (Furiant): molto vivace
Finale: Allegro
Finał / Final
S. Rachmaninov Concerto No. 2 in C minor op. 18
Moderato
Adagio sostenuto
Allegro scherzando