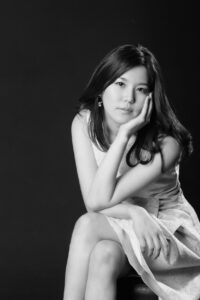 Jung Dasul
Korea / Korea
Urodziła się 2 listopada 1986 roku. Studiuje w Akademii Muzycznej w Imoli. Koncertowała w Anglii, Francji, Włoszech, Korei, Niemczech.
2009 – III nagroda Międzynarodowego Konkursu w Akwizgranie w Niemczech.
2008 – finalistka Międzynarodowego Konkursu Pianistycznego im. F. Busoniego.
Born on November 2nd, 1986. Study at the Piano Academy Incontri con Maestro in Imola. Gave concerts in France, Italy, Korea, Germany.
2009 – III prize at the Prix d´Amadéo International Competition in Aachen.
2008 – finalist at the Ferruccio Busoni International Piano Competition.
PROGRAM / REPERTOIRE
I etap / I stage
F. Chopin Ballade in G minor op. 23
L. van Beethoven Sonata in E major op. 109
Vivace, ma non troppo – Adagio espressivo
Prestissimo
Gesangvoll, mit innigster Empfindung
II etap / II stage
I. J. Paderewski Miscellanea: Melody op. 16 No. 2
Album de Mai: Caprice Valse op. 10 No. 5.
R. Schumann Kreisleriana op. 16
C. Debussy Preludes Book I
Voiles
Le vent dans la plaine
Półfinał / Semi-final
L. van Beethoven Eroica Variations op. 35
F. Chopin Mazurkas op. 33
F. Liszt – N. Paganini Etude in A minorr No. 6
R. Schumann Piano Quintet in E-flat major op. 44
Allegro brillante
In modo d'una marcia. Un poco largamente
Scherzo: Molto vivace
Allegro ma non troppo
Finał / Final
L. van Beethoven Concerto No. 4 in G major op. 58
Allegro moderato
Andante con moto
Rondo. Vivace