100 years of the Ignacy Jan Paderewski Music Association in Bydgoszcz
100 years of the Music Association in Bydgoszcz
1922-2022
May 30th, 2022 is the hundredth anniversary of the Music Association in Bydgoszcz. It is an entire century of efforts and struggle for the quality of musical life in Bydgoszcz. These are the years of professional and non-professional activity of musicians and people of various professions – engineers, doctors, lawyers, craftsmen, officials … This is an epoch in which enthusiasts of musical art started from making music together, fought for musical education, educating the youngest. They also implemented ambitious artistic and popularization projects in order to undertake an event which is emblematic of the city today, called the International Paderewski Piano Competition.
It's time to start celebrating this jubilee, so important for our city …
CELEBRATIONS of the 100 years of the Music Association in Bydgoszcz:
 Conference:
The Paderewski Music Association will be the HOST of the 66th General Assembly of the World Federation of International Music Competitions
June 24th-26th, 2022
Partners of the event:
City of Bydgoszcz
Culture Park in Bydgoszcz
Kujawsko – Pomorskie Region
Leon Wyczółkowski Regional Museum in Bydgoszcz
Media patronage:

 Concert:
Concert to celebrate the 100 years of the Music Association in Bydgoszcz
1922-2022
Friday, 24.06.2022, 7 p.m.
Paderewski Pomeranian Philharmonic Concert Hall
Szwalbe Stret No. 6, 85-080 Bydgoszcz, Poland
Can Çakmur piano
Paderewski Pomeranian Philharmonic Orchestra
Paweł Kapuła conductor
Concert is an award for the first prize winner of the International Hamamatsu Piano Competition, awarded by the Paderewski Music Association in Bydgoszcz
* TICKETS: https://filharmonia.bydgoszcz.pl/kalendarz/koncert-symfoniczny-15/
 Publication:
PEOPLE FROM A GOOD SOCIETY
Aleksandra Kłaput-Wiśniewska
100 years of the Paderewski Music Association in Bydgoszcz
A history of the Music Society in Bydgoszcz, spanning one hundred years, written told the lives of those involved in the activities of this association, so vital in the history of the city. The work shows how the idea of developing musical life in Bydgoszcz had become the purpose of extra-professional activities of not only musicians, but also engineers, doctors, lawyers, craftsmen, clerks, priests… The intelligentsia of those years.
The involvement of four generations of the Association's members bore fruit in many different ways. From making music collectively, through music-making activities and education of children, to ambitious artistic and popular-scientific projects, to the organization of large undertakings such as an international piano competition, requiring not only activists but also a well-formed environment. Members of the Association initiated the idea of creating a symphony orchestra in Bydgoszcz, anticipating the activity of the Pomeranian Philharmonic. Thanks to the creativity of the Association's leaders, the Opera Studio emerged, years later bearing fruit in the form of a professional opera. There was also the Music Studio, the starting point of modern music education and the forerunner of a higher music school established in the mid-1970s – today's Feliks Nowowiejski Music Academy.
Throughout the century the Music Association has been a meeting place for people, united in their passion for music and recognizing its importance for the culture of the city. On 6 November 1986 the Association took the name of Ignacy Jan Paderewski. Aleksandra Klaput-Wiśniewska's work shows in a factual manner how the association of music lovers in the course of the century has become an inspiration for the unique musical position of Bydgoszcz in the country and the world. 
Financed by the Roman Dmowski and Ignacy Jan Paderewski Institute for the Legacy of Polish National Thought, within the framework of the Patriotic Fund – 2022 edition "Freedom in Polish.

OBCHODY 100 – lecia Towarzystwa Muzycznego im. Ignacego Jana Paderewskiego w Bydgoszczy:
 Konferencja:
W dniach 24-26 czerwca 2022 Towarzystwo Muzyczne im. I. J. Paderewskiego będzie gospodarzem 66. Zgromadzenia Ogólnego Światowej Federacji Międzynarodowych Konkursów Muzycznych z siedzibą w Genewie
Partnerzy Wydarzenia: Miasto Bydgoszcz
Park Kultury w Bydgoszczy
Województwo Kujawsko – Pomorskie
Muzeum Okręgowe im. Leona Wyczółkowskiego w Bydgoszczy
Patron medialny: Telewizja Polska S.A. w Warszawie Oddział w Bydgoszczy 
 Koncert:
Koncert z okazji 100-lecia powstania Towarzystwa Muzycznego w Bydgoszczy 1922-2022 piątek, 24.06.2022, 19.00 Filharmonia Pomorska im. Ignacego Jana Paderewskiego ul. Andrzeja Szwalbego 6, 85-080 Bydgoszcz, Polska
Orkiestra Symfoniczna Filharmonii Pomorskiej
Maciej Puto prowadzenie
Repertuar:
Franz Liszt – II Koncert fortepianowy A-dur Antonin Dvořák – VII Symfonia d-moll op. 70 Występ solisty stanowi nagrodę pozaregulaminową Towarzystwa Muzycznego im. I. J Paderewskiego w Bydgoszczy dla laureata Międzynarodowego Konkursu Pianistycznego w Hamamatsu w Japonii. * BILETY: https://filharmonia.bydgoszcz.pl/kalendarz/koncert-symfoniczny-15/
 Publikacja:
LUDZIE Z DOBREGO TOWARZYSTWA Aleksandra Kłaput-Wiśniewska 100 lat Towarzystwa Muzycznego im. Ignacego Jana Paderewskiego w Bydgoszczy
Historia stu lat Towarzystwa Muzycznego w Bydgoszczy, pisana życiorysami osób zaangażowanych w funkcjonowanie ważnego w dziejach miasta stowarzyszenia. Praca ukazuje, jak idea rozwoju życia muzycznego Bydgoszczy stała się celem pozazawodowej aktywności nie tylko muzyków, ale także inżynierów, lekarzy, prawników, rzemieślników, urzędników, duchownych… Inteligencji tamtych lat. Zaangażowanie czterech pokoleń członków Towarzystwa owocowało różnymi formami. Od wspólnego muzykowania, przez akcje umuzykalniania i edukację dzieci po ambitne projekty artystyczne i popularno-naukowe, aż po organizację wielkich przedsięwzięć jak międzynarodowy konkurs pianistyczny, wymagający nie tylko aktywistów, ale uformowanego środowiska. Z grona członków Towarzystwa płynęły pomysły stworzenia bydgoskiej orkiestry symfonicznej, antycypującej działalność Filharmonii Pomorskiej. Dzięki kreatywności liderów Towarzystwa powstało Studium Operowe, po latach owocującego profesjonalna operą. Powstało też Studium Muzyczne, punkt wyjścia dla nowoczesnego szkolnictwa muzycznego i zapowiedź powołanej w połowie lat 70. wyższej szkoły muzycznej, dzisiejszej Akademii Muzycznej im. Feliksa Nowowiejskiego. Towarzystwo Muzyczne w ciągu wieku było przestrzenią dla spotkań ludzi, zjednoczonych w upodobaniu do muzyki i uznających jej znaczenie dla kultury miasta. 6 listopada 1986 roku Towarzystwo przyjęło imię Ignacego Jana Paderewskiego. Praca Aleksandry Kłaput-Wiśniewskiej ukazuje w faktograficznym ujęciu, jak stowarzyszenie melomanów w ciągu stulecia stało się inspiratorem wyjątkowej, muzycznej pozycji Bydgoszczy w kraju i świecie.
Dofinansowano ze środków Instytutu Dziedzictwa Myśli Narodowej im. Romana Dmowskiego i Ignacego Paderewskiego w ramach Funduszu Patriotycznego – edycja 2022 Wolność po polsku.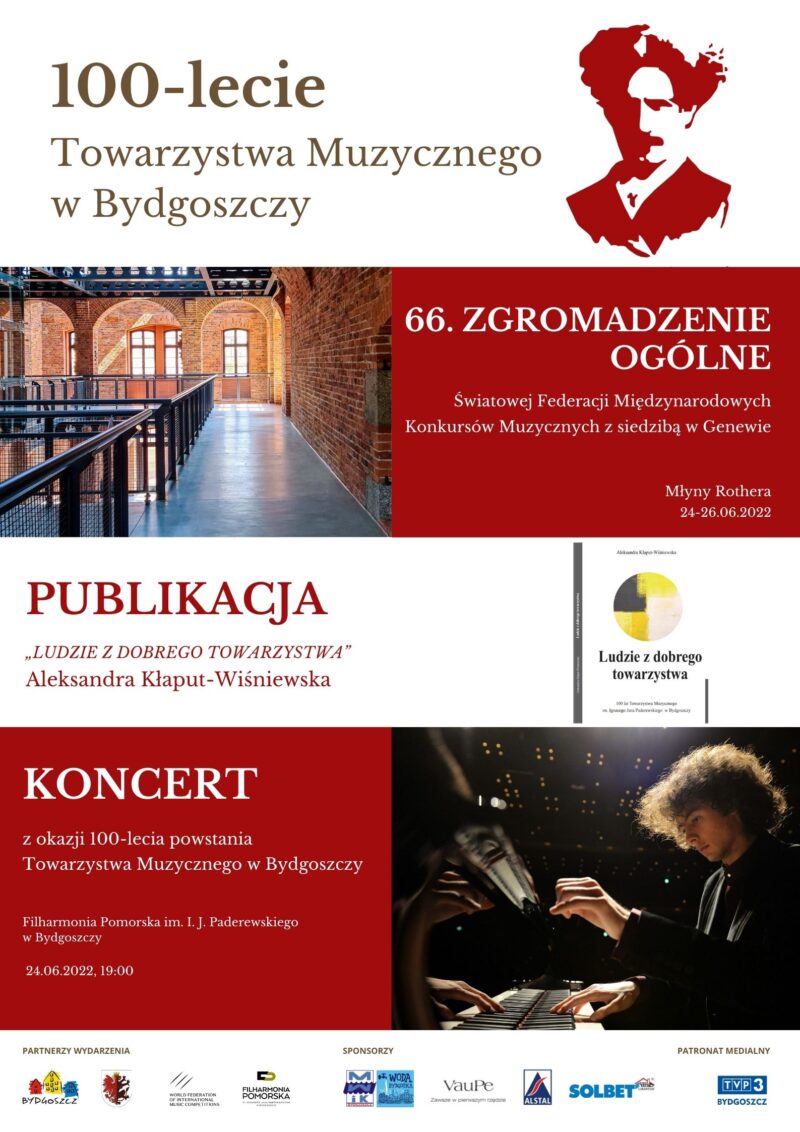 The competition is co-financed by the Minister of Culture and National Heritage from the Fund for the Promotion of Culture – a state special purpose fund, as part of the "Music" program implemented by the National Institute of Music and Dance, and by the City of Bydgoszcz.
Partner of the International Paderewski Piano Competition  – Kujawsko-Pomorskie Region.