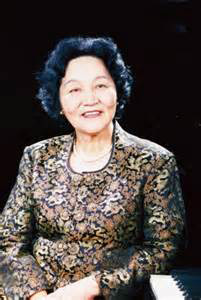 Zhou Guangren 
China
Zhou Guangren, who was born in Hannover, Germany, of Chinese Parents, began her piano studies in Shanghai with Ding Shande, Mario Paci, Alfred Marcus and Bela Belai. She subsequently studied at the Central Conservatory of Music with Aram Tatulian from Moscow. Her career as a concert pianist started at an early age, when she was invited to play with the Shanghai Municipal Orchestra, the Central Philharmonic Orchestra in Beijing and with the Dresden Symphony Orchestra. She was the first Chinese pianist to be awarded prizes in international piano competitions, during the World Youth Peace Festival in Berlin 1951 and during the Schumann Competition in Zwickau, 1956.
Since 1955, she has been a member of the piano faculty of the Central Conservatoryof Music in Beijing and has served as Chairman of the Piano Department from 1986-1992.
A frequently sought after adjudicator in major international piano competitionsin the USA, France, Norway, Chile, Israel, England and Japan, she toured theUnited States and given lecture recitals on Chinese piano music in 29 universities.She was the organizer of the First China International Piano Competition in 1994,acting as chairman of the jury. In summer 1995, she performed the Mozart A majorConcerto in London with the Britten-Pears Orchestra.
The past ten years, she has devoted herself extensively to the popularizationof the piano in China. She founded two Children's Piano Schools, organized competitionsand coordinated grade examinations, ran concert series of piano music for theBeijing Concert Hall and on China Central TV Station. She is the chief-editorof the piano magazine "Piano Artistry". The Chinese government awarded her thehonorary title "Best Cultural Worker", "National Best Educator" with the "MayFirst Labour Medal" .