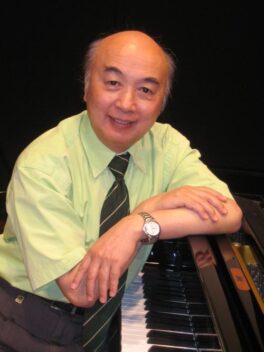 Zhaoyi Dan
China
Dan Zhaoyi is a famous piano pedagogue in China. He was professor at the Sichuan Conservatory of Music from 1964-1995 and is now teaching at the Shenzhen Arts School. Dan Zhaoyi's father was a medical doctor, who loved music and influenced his children to study music. Dan Zhaoyi entered the Music School in Sichuan at the age of 14, studying piano with Prof. He Huixian and Lin Ruizhi. In 1960, he went to Beijing to study with Prof. Zhou Guangren who layed the foundation for his piano teaching career. In 1964, he graduated from the Sichuan Conservatory of Music.
During his more than 30 years' research on piano teaching, he brought forth many young pianists, particularly in the last ten years a group of brilliant, young performers winning prizes in important international piano competitions emerged out of his class.
Most outstanding are Li Yundi, Chen Sa and Zuo Zhang. His students won 34 times in international piano competitions, among them are 11 First Prizes: including the 1st China International Piano Competition (Young Pianists), Gina Bachauer Young Artists Piano Competition and Gina Bachauer Junior Group, the Krainev International Youth Piano Competition in Ukraine, the Tchaikovsky Competition for Young Musicians, and at last the Chopin International Piano Competition in 2000, where Li Yundi won 1st Prize and Chen Sa won 4th Prize after having won the 4th Prize at the Leeds Competition in 1996. They are the first Chinese to win such a high prize.
For his outstanding teaching achievements Dan Zhaoyi has obtained various awards. He has been honored with the title "National Outstanding Educator", "Excellent Teacher" and has been awarded the honorable Certificate for international Culture and a memorial gold medal.