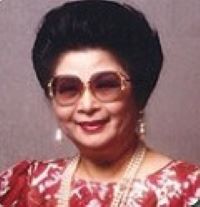 Yuko Yamaoka
Japan
Yuko Yamaoka was born in Fukuoka in western Japan. She began to have piano lessons in natural style of rendition from own mother at age of three. Later studied with Professor Yoichiro Miyake, Leo Sirota and Kazuko Yasukawa. At age of eight, played Concerto in A major, K. 488, by Mozart with Japan Radio Orchestra for overseas broadcast. At age of eleven, gave joint recital, and later performed solo with orchestras and chamber music ensembles, and in radio broadcasts. Won prize in 20th Japan Musical competition in 1951.
Decorate by French Government with chevalier de L'Ordre des Arts et des Lettres in 1983 and Officier dans L'Ordre des Arts et des Letters in 1998, given Yokohama Cultural Award in 1990.
Yuko Yamaoka serves on the jury of many international competitions. She is also taking important responsibilities in educational and other social activities as member, Board of Education, Yokohama City (1996-2003); member of the board, the Yokohama City Foundation for the Promotion of Culture; Professor, Faculty of Music and Graduate School, Ferris Women's University; instructor, Toho Gakuen University and Junior College; board member, Japan Piano Teachers' Association; member of the board of trustees, International Music Exchange Association; board member, Franco-Japanese Society of Music; president, executive committee, Yokohama International Piano Concert, and representative, Yamate Geteza Piano Festival.