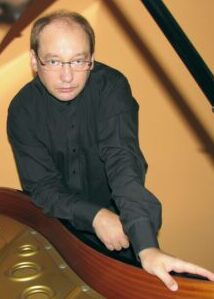 Wojciech Świtała 
Poland
Wojciech Świtała graduated from the Karol Szymanowski Academy of Music in Katowice with Professor Józef Stompel. From 1991 to 1996 he was tutored by Professors – Karl-Heinz Kämmerling, André Dumortier and J. C. Vanden-Eynden. He is the laureate of international competitions in Bardolino (Italy, 1st prize), the M. Long and J. Thibaud Competition in Paris (2nd Grand Prix, audience award, award for best European artist) and the Piano Competition in Montreal. During the 12th Fryderyk Chopin International Competition Świtała was awarded a prize for best polonaise performance as well as numerous additional prizes.
The artist gave concerts in most European countries, namely in Argentina, Morocco, the United Arab Emirates, Libya, the USA and Canada. He appeared with the majority of symphonic orchestras in Poland including the Sinfonia Varsovia Orchestra, the Amadeus Orchestra, the Cracow Philharmonic and the Silesian Philharmonic. The artist performed under the baton of Agnieszka Duczmal, Jan Krenz, Tadeusz Strugała, Volker Schmidt-Gertenbach, Krzysztof Missona, Jerzy Katlewicz, Mirosław Błaszczyk and Tomasz Bugaj. Apart from being a soloist the pianist enjoys performing chamber music with Szymon Krzeszowiec, the Silesian Quartet, the Camerata Quartet, the Royal Quartet and the Aukso Orchestra.
Wojciech Świtała made numerous recordings featuring Liszt, Schumann and Chopin music, including scherzos, waltzes and roundels. Over the years 2000-2005 he was awarded twice the Grand Prix du Disque Fryderyk Chopin and in 2002 he was honored with the Fryderyk 2002 award. In 2003 the pianist recorded both books of Debussy's preludes, published by BeAr Ton, and – prepared in collaboration with Szymon Krzeszowiec – J. Brahms' violin sonatas for SONY Music Polska. In 2006 his record featuring Zarębski's works, made in Super Audio CD technology, was released. It was prepared in collaboration with the Quartet Royal.
In 2007 the National Fryderyk Chopin Institute released his album featuring Chopin's preludes op.28 (recorded on the Pleyel piano from 1848) and Andante spianato and Grand Polonaise op. 22, (recorded on the Erarda piano from 1849).
Last year the DUX Company released a record made with Piotr Pławner featuring Szymanowski's compositions for violin and piano, which was honored with the Fryderyk award 2009.
Since 1998 the pianist has been dedicated to teaching. He assumed the rank of Professor at the Piano Faculty in the Karol Szymanowski Music Academy in Katowice. Since October 2008 he has been appointed vice-president of this institution.