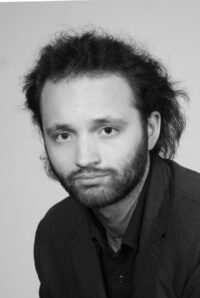 Danylo Saienko
Ukraina / Ukraine
Born on February 7th, 1991. Study at the Lviv State Music Academy. Gave concerts in Ukraine and Poland.
2012 – III prize at the Emil Gilels International Piano Competition, Odesa
2012 – IV prize at the Mykola Lysenko International Music Competition in Kiev.
2010 – II prize at the International Chopin Competition in Lviv.
PROGRAM / REPERTOIRE
I etap / I stage
J. Haydn Sonata in F major Hob XVI: 23
Allegro
Adagio
Presto
N. Medtner Fairy Tales op. 20 in F minor, E minor, B minor
F. Liszt Etude Transcendental No. 12 Chasse-neige
F. Chopin Etude in A minor op. 25 No. 11
II etap / II stage
I. J. Paderewski Album de Mai op. 10 No. 1 Au Soir
Miscellanea: Nocturne op. 16 No. 4
Album de Mai: Scherzino op. 10 No. 3
Humoresque de Concert: Menuet op. 14 No. 1
R. Schumann Kreisleriana op. 16
D. Shostakovitch Prelude and Fugue in D-flat major op. 87 No. 15
Półfinał / Semi-final
L. van Beethoven Sonata op. 101 in A major
Allegretto, ma non troppo
Vivace alla Marcia
Adagio, ma non troppo, con affetto
Allegro
F. Chopin Barcarolle in F-sharp major, op. 60
F. Chopin Mazurkas op. 30
S. Rachmaninov Preludes op. 32
No. 2 in B minor
No. 6 in F minor
No. 13 in D-flat major
J. Brahms Piano Quintet in F minor op. 34
Allegro non troppo
Andante, un poco adagio
Scherzo: Allegro
Finale: Poco sostenuto – Allegro non troppo – Presto, non troppo
Finał / Final
P. Tchaikovsky Concerto No. 1 in B-flat minor op. 23
Allegro non troppo e molto maestoso
Andante semplice
Allegro con fuoco