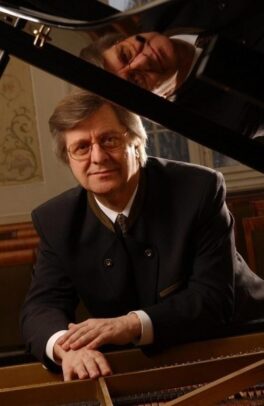 Piotr Paleczny 
Chairman of the Jury
He is one of the most eminent Polish pianists. Graduated from the Music Academy in Warsaw in the class of prof. Jan Ekier.
Prizewinner at five international piano competitions, those in Sofia [1968], Munich[1969], Warsaw[1970], Pleven [1972] and Bordeaux [1972]. Since the success achieved at the 8th International Frederic Chopin Piano Competition, has been engaged in concerts activities on all the continents.
Was appearing as soloist with such internationally renowned orchestras as Warsaw National Philharmonic, National Polish Radio Symphony Orchestra, Chicago Symphony, American Symphony, Royal Philharmonic, Concrtgebouw, BBC London, Gewandhaus, Tonhalle Zurich, Yomiuri Nippon, RAI Roma, Santa Cecilia, Mexico National, Buenos Aires National, National Orchestra Madrid.
Piotr Paleczny has been appearing in famous concert halls such as Carnegie Hall, Avery Fisher Hall and Alice Tully in New York, Orchestra Hall in Chicago, Suntory Hall in Tokyo, Teatro Colon in Buenos Aires, Gewandhaus in Leipzig, Concertgebouw in Amsterdam, Royal Festival Hall in London and Tonhalle in Zurich.
Piotr Paleczny made numerous disc recordings for various recording companies such as "Polskie Nagrania", "EMI", "BBC Classic", "Naxos", "Pony Canyon", "CDAccord", "Olympia", "Wifon", "BeArTon", "Sound", "DUX".
Concerts of music – mainly by Polish composers, are significant part of his repertoire. Particulary highly regarded have been his recordings of concertos by F.Chopin [Pony Canyon], Ignacy Jan Paderewski [Sound], Witold Lutoslawski [Naxos] and Karol Szymanowski's Concerto – Symphony No.4 [EMI and BBC Classic]. Two of his Chopin CD's – complete Ballades and Piano Concertos – recorded with Sinfonia Varsovia and Jerzy Maksymiuk /BeArTon/, received status of the "Gold Disc".
Another recent recording – "The best of Chopin" /DUX/ – has been awarded the "Frederic '99" prize by the Polish Phonographic Academy. In December 2002 this CD achieved status of the "Platinum Disc".
Since 1993 the artist has acted as Director of the oldest–standing music festival in Poland – the International Chopin Festival in Duszniki, which under his management has undoubtedly acquired a new character and been considered one of the most important piano festivals.
Professor Piotr Paleczny, tutoring a class the Music Academy in Warsaw has also distinguished himself as a respected teacher. He has been invited to conduct master courses in many academic institutions worldwide.
For a dozen or so years on many occasions he has been on a jury of the most prestigious piano competitions, such as the International Fryderyk Chopin Piano Competition in Warsaw, the Pyotr Tchaikovsky Competition in Moscov, the A. Rubinstein Competition in Tel Aviv – where he has been appointed Vice-Chairman of the Jury.
In June 2007 he was presiding over the workings of the Cleveland Piano Competition Jury, distinguishing himself as the first Pole invited to fulfill the function of the President of the Jury during piano competitions organized in the US.
Moreover, many times he has also acted as a member of the jury during piano competitions in Los Angeles, Leeds, Cleveland, Hamamatsu, Geneva, Minneapolis, Santander, London, Paris, Salt Lake City and Prague. In recognition of his outstanding achievements Professor Piotr Paleczny has been honored with  many prizes, decorations and honorable mentions both in Poland and abroad.