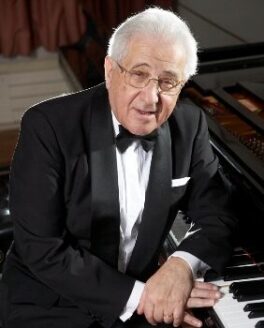 Peter Frankl 
Great Britain
Peter Frankl made his name on the international circuit as a young pianist in the 1960s. Following his London debut in 1962 and his New York debut with the Cleveland Orchestra in 1967, he has been performing with many orchestras in the USA (Chicago, Philadelphia, Boston, Washington, Los Angeles, San Francisco, Pittsburgh etc), the Berlin Philharmonic, Leipzig Gewandhaus, Amsterdam Concertgebouw, Orchestre de Paris, Israel Philharmonic, all London orchestras and many others in Europe and all parts of the world. He has appeared with conductors like Abbado, Ashkenazy, Barbirolli, Blomstedt, Boulez, Chailly, Davis, Doráti, Fischer, Haitink, Kempe, Kertész, Leinsdorf, Maazel, Masur, Muti, Sanderling, Solti, Szell, among others.
His many tours have taken him often to Japan, Australia, New Zealand and South Africa, playing with orchestras, in recitals and also in chamber music concerts. He has appeared over twenty times at London's BBC Promenade Concerts and has been a regular participant at the Edinburgh, Cheltenham, Aldeburgh, Verbier, Kuhmo, Naantali and Casals Festivals. Among the highlights of his many Edinburgh Festival appearances were his performance of the Britten Concerto under the baton of the composer and an opening televised concert with the Philharmonia Orchestra conducted by Muti. He was the soloist at the Enescu Festival in Bucharest with the Budapest Festival Orchestra at one of the last concerts Yehudi Menuhin ever conducted.
In the USA, Peter Frankl has been regular guest–artist at summer festivals in Aspen, Chautauqua, Hollywood Bowl, Marlboro, Norfolk, Ravinia, Santa Fé and Yellow Barn. For many years the Frankl-Pauk-Kirshbaum trio travelled the world. He often performs with string quartets like the Amadeus, Bartók, Borodin, Fine Arts, Guarneri, Lindsay, Panocha, Takács, Tokyo and Vermeer. He has given master classes all over the world, including the Royal Academy and Royal College in London, Liszt Academy in Budapest, Van Cliburn Institute in Texas, in Berlin, Madrid, Beijing, Hong Kong and Seoul. Among his many recordings are the complete Schumann and Debussy piano works (with Andras Schiff the Schumann 2-piano and 4-hand repertoire); both Brahms' Concerti, Violin Sonatas – with Kyung Wha Chung -; Mozart Concerti, Violin Sonatas and 4-hand works -with Tamas Vasary -; Bartok solo works and violin pieces; Piano Quintets of Brahms, Schumann, Dvorak, Martinu and Dohnanyi.
Peter Frankl studied at the Franz Liszt Academy in Budapest with Professors Hernádi, Kodály and Weiner and won first prizes at several international competitions. He lives in London and is on the faculty of Yale University School of Music. In recognition of his artistic achievements he was awarded the Officer's Cross and Middle Cross by the Hungarian Republic. He is Honorary Professor of the Liszt Academy.