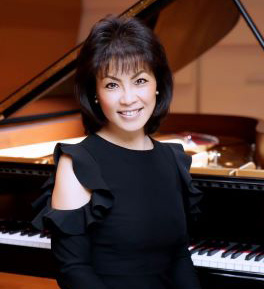 Noriko Ogawa
Japan
Noriko Ogawa has achieved considerable renown throughout the world since her success at the Leeds International Piano Competition. Noriko's "ravishingly poetic playing" ("Telegraph") sets her apart from her contemporaries and acclaim for her complete Debussy series with BIS Records ("If you like your Debussy to sound like the musical equivalent of a chilled white wine, Noriko Ogawa is the pianist for you" – Roger Vignoles, BBC Radio 3, CD Review), confirms her as a fine Debussy specialist.
As an exclusive recording artist for BIS Records, Noriko released her new album with Thomas Zehetmair and Musikkollegium Winterthur in April. Ranging from Mozart, Rachmaninov, Satie, Debussy to contemporar y composers including Alexander Tcherepnin, Vagn Holmboe, and Yoshihiro Kanno, Noriko boasts a prolif ic catalogue of over 30 albums. Her discography includes Takemitsu's Riverrun (Editor's Choice, "Gramophone"), Mussorgsky's Pictures from an Exhibition (Critics' Choice, BBC "Music Magazine"), critically acclaimed Debussy's complete piano music, and a complete set of Eric Satie's music for solo piano.
In 2020/2021 seasons, Noriko has remained unusually active and managed to commit herself to a variety of engagements in spite of the covid 19 pandemic. Her recent performances include New Year Concert with Tokyo Metropolitan Orchestra, Beethoven Piano Concerto No. 5 with Tokyo Symphony Orchestra, Beethoven Piano Concerto No. 3 with Hiroshima Symphony Orchestra, solo and duo piano recitals as part of Festa Summer Muza at the Muza Kawasaki Symphony Hall, online concert in collaboration with visual artist Irene Sanderson at the Netherby Hall, duo rendition with saxophonist Huw Wiggin over The Royal Over-Seas League's website, and virtual charity concerts for Soundabout and Japan Association UK. As a regular teaching faculty and sought-after guest educator, Noriko continued teaching online and face-to-face (according to lockdown measures) at the Guildhall School of Music and Drama and Tokyo College of Music, gave masterclasses at the Royal College of Music and the Yamaha Masterclass from Tokyo to Seoul, and taught the virtual edition of Chetham's International Piano Summer School and at the Hamamatsu International Piano Academy.
In addition to her busy performing and teaching, Noriko regularly judges at international competitions. Forthcoming and recent adjudication includes the Cleveland International Piano Competition, the Leeds International Piano Competition, the International Edvard Grieg Competition in Norway, the BBC Young Musician of the Year Competition, the ARD International Music Competition in Germany, the Honens International Piano Competition in Canada, and the Scottish International Piano Competition.
Noriko was appointed as the Chairperson of the Jury for Japan's prestigious 10th Hamamatsu International Piano Competition in 2018 and was also elected to the board of the World Federation of International Music Competitions this same year. As the Chairperson of HIPC, Noriko contributed to host the online General Assembly of WFIMC successfully last December in the light of current global climate.