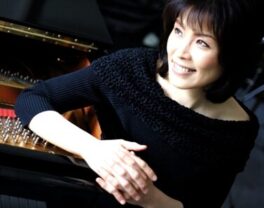 Noriko Ogawa 
Japan
Noriko Ogawa has achieved considerable renown throughout the world since her success at the 1987 Leeds International Piano Competition. Ogawa's 'ravishingly poetic playing'(Telegraph) sets her apart from her contemporaries and acclaim for her complete Debussy series with BIS Records confirms her as a fine Debussy specialist.
Ogawa appears with all the major UK, European, Japanese and US orchestras. With her wonderful dynamic range and colour palate, Ogawa's particular affinities range from the works of Takemitsu, through the larger Romantic composers such as Prokofiev and Rachmaninov, to contemporary concerti commissioned from Graham Fitkin and Dai Fujikura. Amongst the leading conductors she has worked with are Dutoit, Vanska, Vonk, Lazarev, de Roo, Brabbins, Pesek, Slatkin, Fischer, Herbig, Otaka, Rozhdestvensky and Tortelier.
Ogawa is also renowned as a recitalist and chamber musician. In February 2008, Ogawa made her recital debut at Suntory Hall, Japan for her 20th anniversary concert. Notable chamber projects include a tour of Japan with the Berlin Philharmonic Wind Ensemble and the leader of the Vienna Philharmonic, Rainer Honeck. In 2001 Ogawa and Kathryn Stott launched their piano duo and have since toured in Japan and given premieres of Graham Fitkin's double piano concerto Circuit, including the world premiere at Bridgewater Hall. Ogawa has also collaborated with Steven Isserlis, Isabelle van Keulen, Martin Roscoe, Michael Collins and Peter Donohoe.
An advocate of commissioning, Ogawa has been involved in numerous premieres. Ogawa has toured in Japan with Evelyn Glennie, premiering an exciting new commission for two pianos and percussion by Yoshihiro Kanno. In February 2009, Ogawa performed the premiere of Dai Fujikura's Ampere for piano and toy piano, with the Philharmonia Orchestra and Martyn Brabbins. Ogawa's current ongoing commission is a ground-breaking series of four recital pieces from Kanno which feature the piano alongside various traditional Japanese instruments or sounds; the first for Nambu bell and piano Hikari no Ryushi (A Particle of Light) will be followed by Mizu no Ryushi (A Particle of Water) for metal chopsticks and piano.
Since 1997, Noriko Ogawa has been an exclusive recording artist for BIS Records. In addition to her Gramophone Editor's Choice award winning complete Debussy series (shortly to be completed with the Fantasie for piano and orchestra), her recordings for the label include Toru Takemitsu Riverrun (also Gramophone Magazine Editor's Choice) and Mussorgsky Pictures at an Exhibition (BBC Music Magazine Critics' Choice). Ogawa's discography also includes Rachmaninov, Tcherepnin, Saint-Saens, Grieg, Delius and Graham Fitkin's double concerto Circuitwith duo partner Kathryn Stott.
Alongside performing and recording, Ogawa is sought after for presenting both on the radio and on television, recently appearing on BBC Worldwide in 'Visionaries' as an advocate for Takemitsu and in programmes for NHK and Nippon Television. As an adjudicator, Ogawa regularly judges the BBC Young Musician of the Year Competition, Honens International Piano Competition and the Scottish International Piano Competition. In Japan, Ogawa acts as artistic advisor to the MUZA Kawasaki Symphony Hall (www.kawasaki-sym-hall.jp) in her hometown. In 1999, the Japanese Ministry of Education awarded Ogawa their Art Prize in recognition of her outstanding contribution to the cultural profile of Japan throughout the world and she has also been awarded the Okura Prize for her outstanding contribution to music in Japan. As a writer, Ogawa has completed her first book (published in Japan) and is a regular columnist for the music press both in the UK and in Japan.