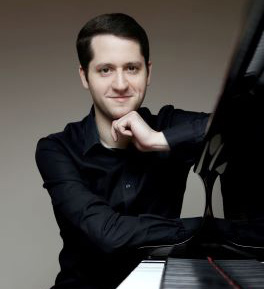 Nikita Mndoyants
Russia/ France
Nikita Mndoyants is the First Prize winner of the 2016 Cleveland International Piano Competition, the First Prize winner of the 2007 International Paderewski Piano Competitionin Bydgoszcz.
As a composer, Mr. Mndoyants received first prize at the 2014 Myaskovsky International Competition of Composers (Moscow, Russia) and 2016 Prokofiev International Competition of Composers (Sochi, Russia).
Mndoyants has collaborated with distinguished conductors including Charles Dutoit, Leonard Slatkin, Vassily Sinaysky, Eri Klas, Ignat Solzhenitsyn, Dmitry Sitkovetsky, Bramwell Tovey, Philipp Tchizhevsky, Alexander Sladkovsky, Alexander Rudin, Mario Venzago, Valentin Uryupin, Konstantin Orbelyan and others. He performed with Cleveland Orchestra, Svetlanov State Academic Symphony Orchestra, Mariinsky Orchestra, St. Petersburg Philharmonic Orchestra, Armenian National Philharmonic Orchestra, Moscow State Symphony Orchestra, Tatarstan National Symphony Orchestra, Gangnam Symphony Orchestra and others.
Nikita performs in most prestigious venues, such as Carnegie Hall in New York, the Great Hall of the Moscow State Conservatory, the Tchaikovsky Concert Hall in Moscow, Mariinsky Concert Hall, the Great Hall of St. Petersburg Philharmonic, Severance Hall in Cleveland, Salle Cortot and Auditorium du Louvre in Paris, Bozar Centre for Fine Arts (Brussels), Elbphilharmonie in Hamburg, Luxembourg Philharmonie, Robert-Schumann-Saal in Düsseldorf, Warsaw National Philharmonic, Rudolfinum in Prague, Lotte Concert Hall in Seoul and many others.
He has performed in major festivals and concert series, including the Klavier-Ruhr Festival (Germany), Chopin Festival in Duszniki-Zdrój (Poland), Mariinsky International Piano Festival (St. Petersburg), International Keyboard Institute and Festival (New York), Brevard Music Festival (USA), International Piano Series in Fribourg (Switzerland), Gilmore Keybord Festival (USA).
Mr. Mndoyants also has become an artist in residence at the Festival International de Musique de Wissembourg (France) since 2012, where he has overseen the performance of his own compositions and performed solo works, chamber music, and concerti. Giving his first chamber performance with the Borodin Quartet in 2004, he has continued to cultivate his passion for chamber music, working with such ensembles as the Brentano, Eben, Zemlinsky, Escher and Szymanowski Quartets.
Among his chamber music partners are pianists Alexander Ghindin and Vyacheslav Gryaznov, violinists Dmitry Sitkovetsky, Andrej Bielow and Valeriy Sokolov, cellists Lev Sivkov, Evgeny Rumyantsev and clarinetist Patrick Messina. Well established as an accomplished composer Mndoyants holds a teaching position in orchestration at the Moscow Tchaikovsky State Conservatory.
His piano and chamber works are made available by publishing houses Composers, Muzyka, and Jurgenson, and have been performed by Alexander Vinnitsky, Alexander Rudin, Daniel Hope, Nicolas Stavy, the Szymanowski and Zemlinsky Quartets, Moscow State Symphony Orchestra, Musica Viva Orchestra and others.
Mr. Mndoyants has released solo and chamber recordings on the Classical Records, Melodiya and Praga Digitals labels. A new recording on the Steinway & Sons label, featuring works by Beethoven, Prokofiev, and Schumann, has been released in June 2017.
He recorded his first CD (of a live performance in Helsinki) at age ten. Nikita Mndoyants received undergraduate and graduate degrees from the Central Music School in Moscow, where he studied piano with Professor Tamara Koloss and the Moscow Tchaikovsky State Conservatory, where he studied composition with Professor Alexander Tchaikovsky and piano with Professor Nikolay Petrov and Professor Alexander Mndoyants.