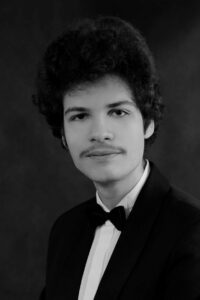 Roman Martynov
Rosja / Russia
Born on August 2nd, 1992. Study at the Tchaikovsky Moscow Conservatory. Gave concerts in Russia, Germany, Italy, Japan.
2012 – III prizeat the XVI Hamamatsu International Piano Academy Competition in Japan.
2008 – laureate of the III Moscow H. Neuhaus Festival for Young Pianists.
2005 – laureate of the XI International Festival of Young Soloists in Moscow.
PROGRAM / REPERTOIRE
I etap / I stage
R. Wagner – F. Liszt Isoldes Liebestod
F. Chopin Etude in A-flat major op.10 No. 10
A. Scriabin Etude in G-sharp minor op. 8 No. 9
F. Chopin Polonaise-Fantaisie in A-flat major op. 61
II etap / II stage
I. J. Paderewski Miscellanea: Melody op. 16 No. 2
Humoresques de Concert: Menuet op. 14 No. 1
J. S. Bach – S. Rachmaninov 3 pieces from Partita in E major for solo violin
Prelude
Gavotte
Gigue
F. Chopin Barcarolle in F-sharp major op. 60
S. Barber Sonata for piano in E-flat minor op. 26
Allegro energico
Allegro vivace e leggero
Adagio mesto
Fuga: Allegro con spirito
Półfinał / Semi-final
L. van Beethoven Variations in C minor WoO. 80
A. Berg Sonata op. 1
S. Rachmaninov Variations on a theme of Corelli op. 42
S. Rachmaninov Polka de W.R.
R. Schumann Piano Quintet in E-flat major op. 44
Allegro brillante
In modo d'una marcia. Un poco largamente
Scherzo: Molto vivace
Allegro ma non troppo
Finał / Final
S. Rachmaninov Rhapsody on a theme of Paganini op. 43