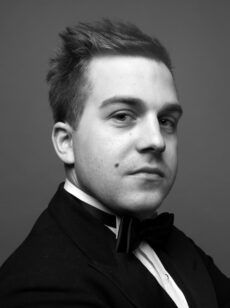 Adam Kośmieja
Polska / Poland
Born on July 21st, 1986. Graduated from the Music Academy in Bydgoszcz and Manhattan School of Music. Gave concerts in USA, Japan, France, Spain, Great Britain and Sweden.
2012 – finalist at the Open Piano Competition, London.
2010 – I prize at the Chopin Competition Columbia University.
2009 – I prize at the Munz Music Competition, New York.
PROGRAM / REPERTOIRE
I etap / I stage
J. S. Bach Prelude and fugue B-flat minor BWV 891 (DWK II)
F. Chopin Sonata B-flat minor op. 35
Grave – Doppio movimento
Scherzo
Marche funèbre: Lento
Finale: Presto
II etap / II stage
I. J. Paderewski Humoresques de Concert: Cracovienne fantastique op. 14 No. 6
Miscellanea: Legende op. 16 No. 1
L. van Beethoven Sonata in C minor op. 111
Maestoso – Allegro con brio ed appassionato
Arietta: adagio molto, semplice e cantabile
F. Liszt – R. Wagner Liebestod
Półfinał / Semi-final
S. Prokofiev Sonata in C minor op. 29
Allegro molto sostenuto
Andante assai
Allegro con brio, ma non leggiero
B. Bartók Three Etudes op. 18
K. Serocki Piano Sonata
J. Brahms Piano Quintet in F minor op. 34
Allegro non troppo
Andante, un poco adagio
Scherzo: Allegro
Finale: Poco sostenuto – Allegro non troppo – Presto, non troppo
Finał / Final
L. van Beethoven Concerto No. 5 in E-flat major op. 73
Allegro
Adagio un poco mosso
Rondo. Allegro ma non tanto