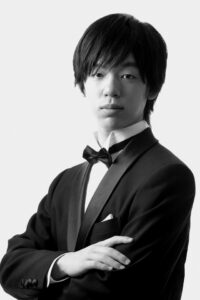 Daiki Kato
Japonia / Japan
Born on April 21, 1991. Study at the Showa University of Music. Gave concerts in Japan and Italy.
2013 – I prize at the XVII Hamamatsu International Piano Academy.
2009 – I prize and audience prize at the VII Tokyo Music Competition.
2009 – silver prize at the X Chopin International Piano Competition in Asia.
PROGRAM / REPERTOIRE
I etap / I stage
L. van Beethoven Sonate in E-flat major op. 27 No. 1
Andante
Allegro molto vivace
Adagio con espressione
Allegro vivace
F. Schubert – F. Liszt Flühlingsglaube S. 558
C. Saint-Saëns – F. Liszt Danse macabre S. 555
II etap / II stage
I. J. Paderewski Miscellanea: Melody op. 16 No. 2
Album de Mai: Scherzino op. 10 No. 3
L. van Beethoven Sonate in G major op. 31 No. 1
Allegro vivace
Adagio grazioso
Rondo. Allegretto
F. Chopin – F. Liszt Chant Polonais No. 5 Meine Freuden
B. Bartók Out of doors Sz. 81
Półfinał / Semi-final
F. Liszt Ballade No. 1 in D-flat major S. 170
Ballade No. 2 in B minor S. 171
P. Hindemith Interludium & Fugue in E major from Ludus Tonalis
F. Mendelssohn Variations Sérieuses op. 54
B. Bartók Sonata Sz. 80
Allegro moderato
Sostenuto e pesante
Allegro molto
C. Franck Piano Quintet in F minor
Molto moderato quasi lento
Lento, con molto sentimento
Allegro non troppo, ma con fuoco
Finał / Final
S. Prokofiev Concerto No. 3 in C major op. 26
Andante -Allegro
Andantino
Allegro non troppo