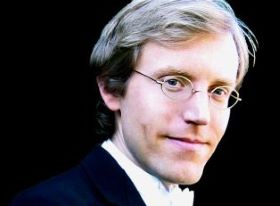 Jan Jiraček von Arnim 
Austria
Born into a family of musicians, pianist Jan Jiracek von Arnim was described by BBC Music Magazine as one of the leading pianists of his generation.
He won the first prize at the Steinway Competition in Hamburg at age ten, and made his formal debut the following year in his hometown of Hannover (Germany), performing a piano concerto by Mozart. Mr. Jiracek has since performed extensively throughout Europe, including recitals at the Herkulessaal Munich, Philharmonie Berlin, Steinway Hall London, Salle Cortot Paris, Palau de la musica Barcelona, Tonhalle Zurich, Konzerthaus Vienna, Musikverein Vienna, Musikhalle Hamburg and the Gewandhaus Leipzig, as well as orchestral appearances with the Berlin and St. Petersburg Philharmonics, Cologne Chamber Orchestra, Vienna Chamber Orchestra and the Northern Sinfonia of England.
A top prize winner at the Busoni Competition (Italy) and Maria Canals Competition (Spain), Jan Jiracek von Arnim was of the winners of the Tenth Van Cliburn International Piano Competition (USA). Following his success at the Cliburn Competition, he was invited to join the roster of Community Concerts, resulting in more than 80 performances throughout the United States. Recent engagements included recitals at the Tilles Center at Long Island University, the University of Vermont Lane Series, and Spivey Hall in Atlanta. He also performed with the Washington Chamber Orchestra at the Kennedy Center in Washington D.C., the Riverside Symphony at the Lincoln Center in New York and with the Fort Worth Symphony Orchestra at Bass Performance Hall. Jan Jiracek von Arnim has been featured on several European radio and television stations, including ZDF, SFB Berlin, Deutschlandradio, Radio Hilversum, Radio Stockholm, and Radio France, and on NDR as a soloist with the NDR Symphony Orchestra.
A graduate of the UdK Berlin, he studied with Hans Leygraf and has performed in masterclasses with Alfred Brendel and Bruno Leonardo Gelber, among others. Jan Jiracek von Arnim gives master classes on a regular basis in North America, Asia and Europe. He was appointed professor for piano at the Universität für Musik und darstellende Kunst Wien in 2001, making him the youngest tenured professor in the history of that school. Mr. Jiracek von Arnim is frequently invited as a judge at international piano competitions, e.g. the "London International Piano Competition" and the "Tchaikovsky International Piano Competition for young musicians".