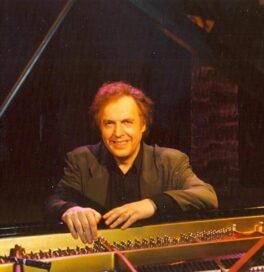 Einar Steen-Nøkleberg
Norway
Competition in 1972, the Norwegian Critics' Prize for Best Performance in 1975 (for the interpretation in Grieg's Piano Concerto at the Bergen Festival), the Norwegian Recording of the Year in 1976 for a recital of Norwegian Baroque Composers, the Lindeman Prize ("Performer of the Year") 1984, the Grieg Prize in 1985 (Bergen) and 1992 (Oslo). He is a Knight of the St. Olav Order, appointed by the King of Norway for his activities for Norwegian music in general.
From 1975 to 1981 Einar Steen-Nøkleberg was Professor of Piano at the Staatliche Hochschule für Musik in Hannover, Germany, an appointment which made him Germany's youngest professor. 1994 he returned to the Hochschule für Musik and taught there until 2012.
Einar Steen-Nøkleberg's international career has included repeated solo recitals in London, Paris, Berlin, Tokyo, Moscow, Mexico City, New York, Hamburg and Copenhagen. He toured the U.S.A. and the former Soviet Union several times. Concerto appearances include the London Symphony Orchestra, the Warsaw Philharmonic, the Copenhagen Royal Chapel, the China Philharmonic, Beijing, the Yumiori Philharmonic Orchestra and the NHK in Tokyo and the Oslo and Bergen Philharmonic Orchestras in Norway. His recording of the Grieg Concerto with the London Symphony Orchestra was chosen by the BBC Saturday Review as the best version of this much-recorded concerto.
Einar Steen-Nokleberg is a pianist who is an expert interpreter of the piano music of Edvard Grieg.
His recently released monumental recording of all Grieg's piano music, a 14 CD set, for Naxos Records is recieving international acclaim. He is currently publishing H. Kjerulf piano works (3 CD's) on Simax, and H. Saeverud piano works (5 CD's) on  Naxos. He also written an authoritative book on the subject of interpreting Grieg's music.
He is jury member of several piano competitions worldwide and gives masterclasses in Austria and Swtzerland.