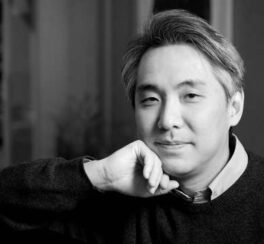 Daejin Kim
Republic of Korea
DAEJIN KIM has successfully consolidated the well-deserved status as one of the leading pianists and pedagogues in Korea.
He won in 1985 the first prize in the prestigious 6th Robert Casadesus International Piano Competition (presently, the Cleveland Competition). In 1986, Professor Kim made his New York debut and received an exceptionally favorable review from the critic for the New York Times who wrote that "Daejin Kim demonstrated all the accouterments necessary for a successful solo career". Since then, he has performed in recital and with orchestra in major cities
throughout the United States, Europe and Asia.
In 1994, Prof. Kim family moved to Korea and since then he has become a prime example of that rare individual who is able to successfully combine both the demanding careers of a concert artist and the most productive teacher. His master classes have drawn international recognition and at the same time, he has been able to maintain a full schedule of performances such as a historic one-day performance of the complete Beethoven's Piano Concertos(2001) and the complete cycle of the Mozart Piano Concertos(2002-2004). Recently, he has appeared as a soloist with the Rundfunk Sinfonieorchestra, Berlin, the RTE National Orchestra in Dublin, and the Sapporo Symphony Orchestra at the Suntory Hall in Japan.
His recent discography includes 2 Piano Concertos by Mozart(K.488 & K.453) which he conducted the Polish National Radio Symphony Orchestra from the keyboard(Sony Label).
In 2002, he received 'the Professor of the Year' Award by the Music Association of Korea, and most recently, received a decoration for 'the Artist of the Year' by the Ministry of Culture in Korea in 2006.
Prof. Kim has been on jury member for the Clara Haskil International Competition, the Cleveland International Piano Competition, the Ettlingen International Piano Competition, and the PTNA Competition, the Sendai International Competition in Japan and Paderewski International Piano Competition, the Rachmaninov International Piano Competition in Moscow, and among others.
His students have earned the prizes in the major international competitions including the Rubinstein, the Busoni, the Viotti, the Ettlingen, the Oberlin, the Cleveland, and the Sendai(Japan). Recently, his student at the Korean National University of Arts has won the first prize at the 2005 Clara Haskil International Piano Competition and the first prize at the Leeds International Competition in 2006.
Daejin Kim earned a Bachelor's, a Master's, and a Doctoral degree from the Juilliard School where he studied with Martin Canin. Prof. Kim has been a member of the associate faculty at the Manhattan School of Music and has taught at Yale University as a Woodward Fellow. He is currently Professor at the Korean National University of Arts in Seoul.