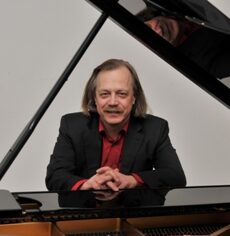 Bernd Goetzke 
Germany
Bernd Goetzke was born in Hanover, Germany in 1951. At the age of 13 he was already accepted as a student at the Hanover University of Music and Drama, where he studied Piano with Prof. Karl-Heinz Kammerling until obtaining his Concert Soloist's Diploma in 1975. Another important phase in his pianistic development was his long association (1969 to 1977) with Arturo Benedetti Michelangeli, who regarded him as his last pupil. He also participated in Beethoven courses given by Wilhelm Kempff and Claudio Arrau. Bernd Goetzke was awarded prizes in several international competitions (Paris, Milan, Athens, Brussels, amongst others).
Already at the age of 25 he was appointed Lecturer at the Hanover University of Music and Drama and became professor in 1982; there he teaches a class of young pianists from all over the world, as well as being Head of the Concert Soloist Programme. In addition he holds numerous Master Classes in Germany and abroad. He is also involved in the training of soloists and the development of young talents outside of the University environment: as jury member of many international competitions, for example, or as Artistic Advisor of the festival "Braunschweiger Kammermusikpodium" and as Chair of a society supporting young artists.
As of last year he is Director of a newly-founded Institute for highly-gifted children. This Institute, conceived by him, is attached to the Hanover University of Music and Drama and the only one of its kind in Germany. In recent years his concert repertoire has focused on works of the twentieth century, reflecting his fascination with the stylistic richness and diversity of the period between Late Romanticism and Avantgarde. In the realm of chamber music one could mention the German premiere of Bartok's Piano Quintet, Messiaen's "Quartet for the End of Time", Schoenberg's "Pierrot Lunaire", Bartok's Sonata for Two Pianos and Percussion, or also the two Rhapsodies by Gershwin or Skryabin's "Prometheus". Bernd Goetzke has also published several articles on subject-related matters ("Freedom in Interpretation", "Pedal Technique", "Bach's Melodic Characteristics", "Articulation and Phrasing in Classical Music", etc.).