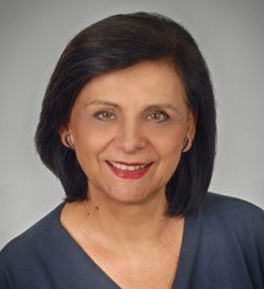 Alicja Paleta-Bugaj
Poland
Alicja Paleta-Bugaj was born in Cracow. She completed primary and secondary education at the Fryderyk Chopin Music School and subsequently graduated with distinction from a piano class under Professor Jan Ekier at the Higher State School of Music in Warsaw (now the Chopin University of Music).
The artist honed her skills at numerous masterclasses including Duszniki-Zdrój, Weimar and also at the Juilliard School of Music under the Kościuszko Foundation scholarship and at the University of California. Her repertoire is varied and features solo recitals, focusing primarily on Chopin's and Szymanowski's music, as well as chamber music (a long-standing collaboration with Trio Krakowskie) and symphonic music. The artist performed in Poland and across Europe in Hungary, Germany, Italy, Spain, Sweden, Lithuania, France and the Czech Republic as well as in the USA, United Arab Emirates, Africa and Japan.
Alicja Paleta-Bugaj is a professor at the Chopin University of Music in Warsaw. She commenced her educational work in 1975 at the Piano Department, than obtained a doctoral and postdoctoral degree specializing in piano instrumental studies.
Finally, in in 1996 she was awarded the title of Professor of Musical Arts by the President of the Republic of Poland. Over the years 2000–2015 the artist was the Head of Piano Department at the Chopin University of Music in Warsaw.
That time resulted in numerous original projects, including Edition of Chopin's Complete Works Live as well as academic undertakings such as a scientific session "On pianist's work". Over the span of 45 years of teaching, Alicja Paleta-Bugaj educated more than 60 graduates, most of whom found their niche in the world of music.
Many of them have won piano competition both in Poland and abroad, many have become staff members of the Chopin University of Music in Warsaw and at other institutions. Alicja Paleta-Bugaj also teaches foreign students during internships and post-graduate studies.
For many years she has been holding master classes in Poland (Duszniki, Głuchołazy, Opole, Janowiec) and abroad (Spain, Italy, Lithuania, Romania, Turkey, China and Japan).
She has been invited to sit on a jury of prestigious piano competitions (often as Jury President) in Cracow, Poznań, Katowice, London, San Sebastian, Dresden, Minsk, Brno, Xiamen (China) and Japan.
Alicja Paleta-Bugaj was a jury member during the international eliminations for the 16th Chopin Competition and President of Nationwide Chopin Competition in Warsaw in 2012. She was also a juror during the eliminations for Paderewski Piano Competitions.
During the last three editions of the International Fryderyk Chopin Piano Competition she commented live all the stages of the contest on Polish Television (TVP Kultura).
Alicja Paleta-Bugaj has been an advisor and reviewer of many doctoral and post-doctoral theses and assisted the conferment of professor titles. She was a reviewer in the process of awarding the title of Doctor Honoris Causa to Professor P. Badura-Skoda and Professor P. Paleczny.
While teaching she draws inspiration from the enduring legacy of Jan Ekier as well as from personal experience and insights. The principle that guides her pedagogic work is to seek truth in art, develop abilities to communicate and provide inspiration to young artists teaching values and adequate technical skills.
For her artistic and teaching achievements Alicja Paleta-Bugaj received an award f the Minister of Culture and National Heritage and the Decoration of Honor Meritorious for the Polish Culture.